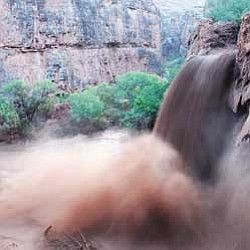 Originally Published: June 15, 2010 2:09 p.m.
Longtime residents can already feel the difference in the air now that summer is in full swing. That difference has to do with the humidity, the rising temperatures and more; indicating that it is only a matter of time before the summer monsoon storms once again return to northern Arizona. With those storms can come a number of dangers that those living and traveling through the area need to be aware of while out and about, particularly when it comes to flash flooding in certain parts of northern Arizona, including the Grand Canyon.
Summer monsoons can often produce more water than the ground can absorb at once, creating these floods. Flash floods occur in northern Arizona, on average, 40 to 50 times a year in certain locations during the summer. Approximately two to three deaths occur each year as a result of these floods.
Be prepared during flash flood season by staying informed of the weather in your area. Keep out of washes and stream beds during monsoon season. According to experts with the National Weather Service, water produced from thunderstorms can travel for miles and seemingly appear out of nowhere, even in areas under sunny skies. If caught by a flash flood, immediately seek higher ground.
Drivers who find themselves near flooded roadways should never attempt to cross the flooded areas in their vehicle. Most fatalities occur when motorists attempt to cross flooded water. Even shallow water can often have a strong enough current that it will carry a vehicle away. Drivers should always wait for the water to subside or find an alternate route to reach where they are going. Drowning is not worth the risk.
Those who live in a flood-prone area should develop an evacuation plan to be used during the monsoon season. Information on flash flood safety can be found online at www.weather.gov/flagstaff/science/flashfld.php?wfo=fgz. Weather forecasts, as well as weather warnings, can also be found online at www.weather.gov/flagstaff.
More like this story