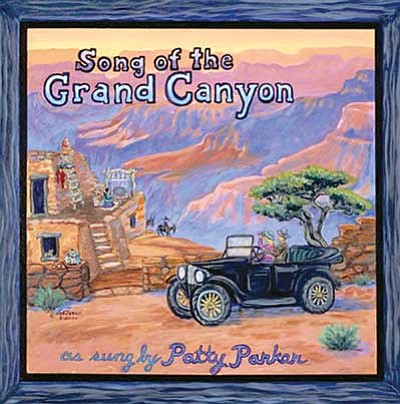 Originally Published: June 15, 2010 2:29 p.m.
GRAND CANYON, Ariz. - Southwestern singer Patty Parker knows a thing or two about music. She's been singing since age 5 and went to school for music as well. In one form or another, singing has always been a part of her life.
Her latest project has brought her to northern Arizona and the South Rim. She's recently produced a single, Song of the Grand Canyon, which she is making available to anyone who wishes to use it. Produced from lyrics written by her husband Frank Fara, Parker said the song was created out of a love for the area.
"We recorded it, for one, because we've lived in Arizona a lot of our lives and love a lot of the things around here. And the Grand Canyon, of course, is the wonder of the world most people associate with Arizona. We just really had an inspiration, by visiting it many times ourselves. Frank got inspired to write the song and I produced it and sang it in Nashville," Parker said.
The single was released roughly a month ago. Fara said he hoped the song would be something area businesses and organizations would want to use to promote the area.
"Our real goal is that we want to share this song,
See Song, Page 2B
From Page 1B
give it as a gift, to the chambers of commerce, to local, area museums, and any business that could use it to further tourism in the state. It's a great song for websites," Farrar said, adding that the songs have been being played in other countries as well.
"Also, in Santa Fe, New Mexico, we've written a song for them, which their Chamber uses," Farrar said. "It's actually a Christmas song, set in old Santa Fe."
A song Parker produced for Sedona, called Sedona Serenade, has been used the Sedona Chamber of Commerce.
Artwork on the Grand Canyon CD was produced by Williams artist Val Jesse.
"Instead of having a CD with a picture on the cover of the singer, so to speak, we wanted it to be a depiction of the Grand Canyon and of the era around the time when the Grand Canyon became a national park," Parker said. "We asked Val Jesse, an artist who lives in Williams, who we have known for years. She's done a number of things with us through the years. She sketched some things out and we kind of tweaked around on it, and then painted it, which is the cover of the CD. The CD itself is just the one song, 'Song of the Grand Canyon,' which is kind of like a singing postcard."
Parker said she hopes the song could one day become one of the definitive songs of the Canyon.
"Not only does it inspire us every time we see it, but we see all these thousands of people, who see it for the first time and it's just overwhelming to see something like that, so we wanted the song to just be something that, as they listen to it, it's a memory of what they saw or, if they haven't seen it, it would inspire them to want to go see it," Parker said.
The CD is available at iTunes, Amazon.com and other online locations, as well as www.grandcanyonsong.com. More information on the CD and her other projects can be found online at www.pattyparker.com as well.
"We would like to see it in Williams and at the Grand Canyon," Parker said.
Her CD 'Southwestern Serenade,' is also currently available.
"It just expands on the theme. From the album we've got a song about the saguaro cactus, and then we've got one called the 'Sedona Serenade' which the town of Sedona uses for a lot of their promotional things, and it's about the red rocks of Sedona," Parker said.
Parker has been singing since she was five-years-old. She eventually became a music major and taught music for a number of years. She didn't begin in earnest until she met her husband.
"When Frank and I met in California a number of years ago, we used to tour as our own country band and I did a lot of singing on the road for a number of years. Then I started producing other artists from around the world in Nashvilles. I've been in music, one way or another, all my life. I love it," Parker said.
Through the years, the couple decided to record various songs pertaining to the southwest.
"He happens to be able to write songs that suit my voice to sing them," Parker said. "I take great pleasure in getting them recorded and being able to sing them."
More like this story