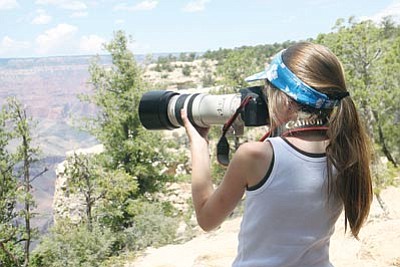 Originally Published: June 28, 2010 1:49 p.m.
GRAND CANYON, Ariz. - Canon and American Park Network will offer free digital photography workshops at Grand Canyon National Park from Saturday through July 24. The free workshops are led by professional photographers who have been recognized nationally for their photographic excellence.
Participants will learn from professional photographers and will be able to use top-of-the-line Canon camera equipment at no charge to capture the picture-perfect sights. All participants will be able to print free copies of the images they take and will also be able to download their photos from the Web for free.
The free photography programs will take place twice daily from July 4 through July 24. Space is limited. Participants should arrive approximately 15-30 minutes early. The workshops begin daily at 8:30 a.m., 12:30 p.m. and 5:30 p.m. at the Canyon View Information Plaza. There is no 5:30 workshop on July 24. A complete schedule is available at OhRanger.com/Canon.
No cameras are necessary. Canon will provide digital SLR bodies and lenses for all participants, though guests are welcome to use their own equipment.
This year's Photography in the Parks program kicked off in Yosemite National Park in June and will travel to the Grand Canyon, Yellowstone and the Grand Tetons before wrapping up in Acadia and Bar Harbor this August. For more information, visit OhRanger.com/Canon.
American Park Network is the world's leading publisher of visitor guides to national parks. Their little, green Oh, Ranger!® guides that are read by more than 20 million park enthusiasts each year. American Park Network also operates OhRanger.com, an online, searchable database of every federal and state public land in America. This interactive database of thousands of national parks, state parks and other public lands makes OhRanger.com a premier one-stop-shop for planning an outdoor adventure.