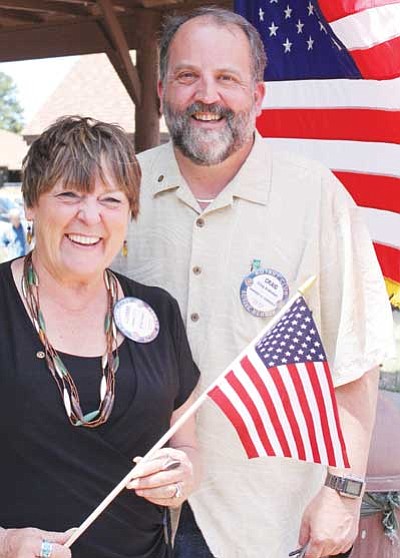 Originally Published: June 29, 2010 1:35 p.m.
TUSAYAN, Ariz. - Last year's Fourth of July celebration in Tusayan proved to be a popular event for those in the area one year ago, so much so that organizers were nearly overwhelmed by the number of people who came out for the Independence Day celebration.
This year they've doubled-up on everything, said Grand Canyon Chamber of Commerce President Clayann Cook.
"The Fourth of July event is taking on a life of its own. At this point we're up to 32, 33 floats, all electric light, all lit up for night. The parade starts at 8:30 p.m.," Cook said.
When it comes to live music for the event, Cook said Mogollon fans will have something exciting to look forward to over the Fourth of July weekend as band members plan a number of events on July 3 and July 4.
"Mogollon is prepared to do both events, a Saturday night fundraiser and the Fourth. We have them up here for two evenings. They're going to be playing at the Squire in the Saguaro Room July 3. It's a $20 cover, with munchies," Cook said.
Mogollon will perform two shows July 3, she added, one beginning at 6:30 p.m. and another beginning at 8:30 p.m. with limited seating.
"That's a fundraiser for Tusayan's school park," Cook said.
On the Fourth, Mogollon will begin their show directly following the electric light night parade at around 8:30 to 9 p.m.
The Mile Deep Pit Barbecue is sure to be a highlight of the event, Cook added.
"We've doubled on the pulled pork, doubled on the drinks, and all the menu items. We're going to be doing the barbecue from 5 p.m. until about 7 p.m. and then the barbecue will start back up again after the parade is over," Cook said.
Games and activities will also be held on the Fourth of July.
"The fun and games department is in high gear," Cook said. "We have a jump house for the kids, we've got a dunk tank, we've got the strong man contest, and we've got the three - legged race. Nathan's is sponsoring a hot dog eating contest. There will be tug-of-war. I think the fire departments are all going to go after each other. That will be fun."
Live and silent auctions will be held during the Fourth of July festivities. Auctions items will include vacation packages such as a two night stay in La Jolla, a big screen TV, Hopi pottery, a Grand Canyon white water trip and more.
"The one thing that, absolutely, I think is going to make this so successful is that every single member of the (Grand Canyon Chamber of Commerce) board has had a committee and they have all been successful," Cook said. "We divided up the work load so that it could go extremely smoothly. We've had lots and lots of meetings."
Grand Canyon Chamber of Commerce Executive Director Craig Andresen has been working hard on the upcoming celebration.
"Everything starts at 4 p.m., the games and contests. The barbecue starts at 5 p.m. The silent auction starts at 5 p.m., the live auction is from 6-7 p.m.," Andresen said.
Rex Stermer will be the auctioneer for the event, he added.
There is still time to enter a float in the Fourth of July parade, Andresen said.
"If businesses want to get a float in the parade, they need to get a hold of us pretty quickly. It will, by far, be the biggest parade we've had for the Fourth of July up here," Andresen said.
Officials at the Grand Canyon Chamber of Commerce can be reached at (928) 638-2901 for more information.
"One of the biggest things we've got this year is our parade grand marshal, Danny White. He's a native from Arizona and he played in the NFL with the Cowboys, and is back now as the team president for the Rattlers. Danny is also bringing up some autographed items for the auction and so we'll have some autographed stuff from ASU, the Dallas Cowboys, and from the Rattlers. That's going to be really nice and we're getting a lot of great feedback for having Danny White," Andresen said.
More like this story