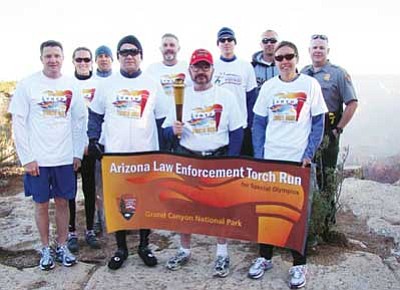 Originally Published: May 11, 2010 2:41 p.m.
GRAND CANYON, Ariz. - Organizer Bill Barber said the 2010 Law Enforcement Torch Run at the Grand Canyon turned out to be a successful event for the annual Special Olympics fundraiser. Plans are already under way for the 2011 event, which Barber said will commemorate the national Torch Run's 30th anniversary. Approximately 15 people, made up of law enforcement rangers in the area, came out for the April 27 run, which began at Pike Creek Vista and ended in Tusayan. Barber organized the annual local eent with the help of Joe Wilcox and Della Yurcik.
"I was pleased with the Torch Run overall," Barber said. "Even though I wish more rangers and more of the community will join the Torch Run in the future, it turned out to be a successful event."
Originally intended to begin at Mather Point, the event's starting location was changed at the last minute due to construction in the area, Barber said.
"I did not find out about the change until the day of the run," Barber said, adding that he was concerned that some participants might get left behind.
"No one did," Barber said.
Barber also expressed his thanks to Lisa Hendly and Phillip Oakes for their donations to the event.
"There were other who continue to donate to Special Olympics," Barber said. "To date a total of $1,095 has been given to Special Olympics."
Barber said he is currently seeking out ideas for the special 30th anniversary of the Torch Run.
"I know that businesses in Tusayan in the past have generously gave to Special Olympics and now I am asking the businesses once again to help in celebrating this wonderful event in 2011. I want to make it a really big celebration if we can and show everyone how important and wonderful this event can become, and be proud in our efforts in doing so," Barber said.
The Law Enforcement Torch Run started in 1981 in Wichita, Kansas. More on the run can be found online at http://info.specialolympics.org/Special+Olympics+Public+Website/English/Support/Law_Enforcement_Torch_Run/About/default.htm.
More like this story