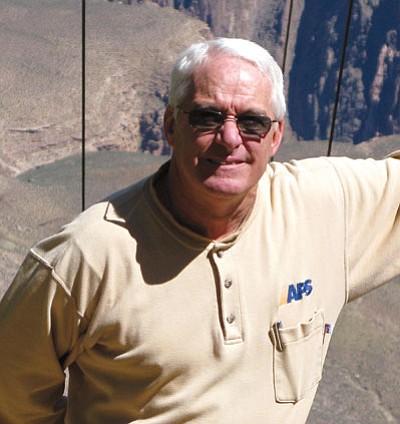 Originally Published: May 19, 2010 12:45 p.m.
GRAND CANYON, Ariz. - To say Don Keil's shoes will be hard to fill is a vast understatement. His retirement leaves a canyon to fill.
Keil retires at the end of this month after serving 22 safe years as Arizona Public Service's (APS) local rep to the Grand Canyon.
Local Reps serve in many ways as owners of their own utility. Among many other things, they read meters, set up new accounts, perform line work (reps must have experience as a lineman), connect and disconnect service, run outages and maintain relationships with the community for the benefit of residents and APS alike. They are on call 24 hours a day, seven days a week, expected to respond quickly to their community's needs.
"People at the Grand Canyon know exactly what to do when they experience an outage or can't pay their bill," said Kent Jones, APS area manager of the Williams District. "When his customers need something, they call Don."
Keeping the lights on and, even more importantly, the water flowing at Grand Canyon National Park is no easy feat. What makes Keil's customers and his area unique from others, of course, is the giant hole in the ground. APS has an overhead power line running deep into the Grand Canyon to serve Indian Gardens, which has eight APS meters, and the Park Service owns a five-mile long underground cable that serves Phantom Ranch, which has 11 APS meters.
Once a month, for 22 years, Keil has hitched a ride on a Park Service helicopter into the Canyon on a water sample flight. While there, Keil inspects the power lines and reads the meters at Indian Gardens and Phantom Ranch.
"This spot is very important to our state and even our country," said Keil's replacement, Kevin Hartigan, Local Representative, Grand Canyon. "More than 4 million people a year visit the Grand Canyon - from presidents, to From Page 1B
foreign dignitaries, to Boy Scouts. Don takes each one of those visits seriously."
The importance of the Canyon was never more clear to Keil as it was in 2004 when the line feeding the Canyon snapped, sending a 3,500 foot span of wire careening to the bottom.What followed was a 17-day outage that threatened to shut down the Canyon.
Much of the power being used inside the Grand Canyon runs an 800 horsepower pump located at Indian Gardens. The pump moves water from Roaring Springs at the north side of the Canyon, straight up the south wall of the Canyon, to a tank farm on the South Rim that has a capacity of 12 million gallons. The water is used to serve businesses and visitors at the South Rim.
"The level of the water in the tanks is marked in feet, up to 24 feet," said Keil. "The park is required to close when the water in the tanks reaches the six foot level."
Closing the Grand Canyon would have a devastating impact on the local economy and Arizona tourism, as thousands of potential visitors would have to change their travel plans.
According to Keil, the cable that was used for the power line when it was originally strung in 1965 is no longer made. However, APS crews from Williams were able to find some of the cable. Keil had a splice kit in his warehouse, so they were able to fix the line.
However, the challenges faced by Keil, and APS crews from Williams and Flagstaff were still not over. While he doesn't know for sure, Keil believes the line was struck during a lightning storm, causing it to snap. The same lightning storm caused numerous fires along the North Rim of the Canyon.
"The Park Service uses the same helicopter for fires, emergency medical situations and utilities," said Keil, "so they were very busy with the fires when I radioed them to pick up the APS crew working in the Canyon. They told me they would pick them up in 15 minutes."
After a 45-minute wait, Keil called the heli-base again, only to be told they wouldn't be able to pick up the crew that night.
"I was upset," said Keil. "I was worried about the crew that was going to have to spend that night on an inaccessible perch below the Rim, and I was worried about the park closing."
Keil later learned the helicopter that was to pick up the APS crew had crashed on the North Rim while working the fires. Luckily, no one was seriously injured. "The helicopter could have been over the Canyon when it went down," said Keil. "Our crew could have been on board. That really put things into perspective."
By the time power was restored to the pump at Indian Gardens, the water tank at the South Rim was down to the 6 ½ foot level. "It was one of the most stressful times I've experienced here," remembered Keil.
While his job makes him easily recognizable around Grand Canyon Village, his community involvement may be what Keil is best known for. "Don is volunteer king, he has his hands in everything" said Hartigan. "APS is an important part of this community, and he is the face of APS for the Grand Canyon."
Eric Gueissaz runs the Café Tusayan, just outside the park boundaries, and calls Keil a "pillar of the community." Gueissaz, originally from Switzerland, recalled a time when his flagpole broke, leaving him unable to fly his American flag.
"Don came out and used his bucket truck to help me fix my flagpole," he said. "I can now fly my patriotic colors."
Keil's commitment to the community "goes beyond his job description," said Gueissaz.
On a recent drive around town in his APS truck, Hartigan was flagged down by a resident who thought he was Keil. "That's the way it's been all week," said Hartigan. "Everyone knows him. I've been working with Don one week, and I've probably met well over 100 people already. It's been a blur."
On May 1, residents of the Grand Canyon gathered at Grand Canyon School to celebrate Keil's career and his retirement.
"This is our opportunity to say thank you," said 12-year resident Greg Bryan, General Manager of the Best Western Squire Inn and member of the Grand Canyon Chamber and Rotary Club.
A parade of speakers representing the Boy Scouts, National Park Service, Park Service Protection Division, Grand Canyon Rotary Club, APS, the Church of Jesus Christ of Latter-Day Saints, Grand Canyon Chamber and Visitors Bureau, Xanterra Parks and Resorts, and Grand Canyon School paid tribute to Keil and his wife Karen for their 22 years of service.
"Don is an example to others of how customer service is done," said Jones. "His ideals, we all want to have."
"A man doesn't spend 22 years in a community with his family unless that community becomes a part of his family," said Daniel Froetscher, APS Vice President of Energy Delivery, to those in attendance. "So we thank you."
"We have a series of values at APS that define the attributes we want from our employees," added Froetscher. "Don Keil has lived those values. The company hates to see Don go, but we're thrilled because we feel we have the right guy coming behind him."
"It does feel like 'Keil Electric Company' here at times," said Keil. "But when I need help, I call APS. Thanks to APS for the opportunity."
With that, Keil introduced the community to the future of APS at the Grand Canyon, Hartigan and his family.
"I've got a vested interest in who takes over," said Keil. "As we went through the interview process, it became apparent very quickly who that person would be.
"Kevin reminds me of myself 22 years ago. He knows how to keep the lights on, but it's much more than that."
Hartigan most recently served as an APS Troubleman in Central Phoenix, has sat on various boards and was very involved in the Anthem community.
"I've loved the Grand Canyon ever since I first came here as a boy," said Hartigan. "I am honored to come here. Thank you for welcoming my family into your community."
Karen Keil may have summed up their feelings best by saying, "When you put so much of yourself in serving others, you end up loving the people you serve."
Don and Karen will be moving to St. George, Utah, where Don plans on playing lots of golf and planning cruises to take with his wife. He also hopes to become more involved in mission work with his church.
More like this story