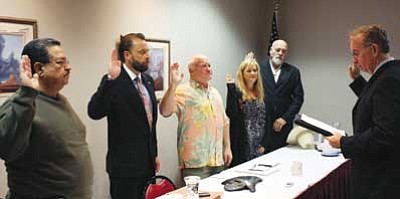 Originally Published: November 10, 2010 1:42 p.m.
TUSAYAN, Ariz. - From incorporation to the first duly elected town council, the small community of Tusayan has had one of the most memorable years in recent history. Following an election Aug. 24, three new council members and two incumbents, having been picked as interim council members by a special county-supervised committee, took their seats Nov. 2 as members of the first elected Tusayan Town Council. Williams Justice of the Peace and Magistrate Bill Sutton swore-in each of the council members during a special meeting held shortly after 8 a.m.
"We're very fortunate and honored to have with us today Judge Bill Sutton from the Williams Justice Court to come up and issue the Oath of Office," said council member Greg Bryan during the Nov. 2 meeting.
Sutton said he was honored to take part in the special meeting.
"The honor is mine," Sutton said. "This is history up here."
Council members signed a number of documents during the Nov. 2 special meeting and discussed signatures on the town's bank account and other housekeeping matters.
"The council is barred from taking any action unless it is posted as an action item," Bryan said. "If, in the process of talking about the magistrate, somebody wants to suddenly talk about the law enforcement and what time the office hours are, it's really off the topic and off the agenda item, so we really wouldn't be able to take any action on that. I wanted to make sure everybody was aware of that."
During the transitional period for the new Town Council, Bryan notified those in attendance for the Nov. 2 meeting that he would also be acting as the town treasurer alongside his other town-related duties.
"This is going to be a learning process for all of us as we go through, and that mistakes are going to happen in the way we say things," Bryan said. "It's just part of the process."
Bryan closed the Nov. 2 meeting by thanking the council's supporters.
"Finally we have an elected council that represents the residents of this town," Bryan said. "For me this is an historic time for the town of Tusayan and the potential that exists for us to create a community that truly is one of all of us having a chance to own something, all of us having a chance to have a vote, all of us having a chance to be part of a process that works for the betterment of the community and building of a sense of community and become a community that truly is warm, welcoming and is directed by people who care about the community as a whole. On behalf of this council, and myself, I'd like us to keep those things in mind, doing what's right as a council as a whole, and not for any one individual."
Bryan also pledged to build a mentoring process for council members and those interested in becoming council members in the future.
"Over the next couple of years we develop people in our community to help spread the leadership of the town and that, when election time comes up, there are 15 people wanting to serve as part of an engaged town government and the town's future," Bryan said. "We spread that desire and we spread that ownership to others."
On Nov. 3 new council members chose a mayor in Greg Bryan and a vice mayor in Cecily Maniaci. Members also chose an interim town manager in Cynthia Seelhammer, part of an agreement with an organization that provides city managers for communities, Bryan said. Seelhammer began her new duties on Nov. 9.
"She has a strong background new towns and starting things up," Bryan said.
A decision to sever their ties with law firm Clark Hill led council members to choose an interim firm during their Nov. 3 meeting. Moyes-Sellers and Sims will serve an interim role as town attorney while Tusayan officials post for a new town attorney, Bryan said. Other matters on the Nov. 3 agenda included the search for a more permanent town hall location.
Bryan added that the recent loss of the Home Rule option for the community of Tusayan was a disappointment, though he said he hopes to see the matter return to voters in the near future.
"We were very disappointed in the loss of the home rule option on the vote," Bryan said. "We are looking to the town manager to look into when we can put that back on the ballot."
Officials with Qwest were also on hand Nov. 3 to discuss the possibility of bringing fiber optic cable into the area via a partnership with NPS, the Forest Service, the Airport and others. Data gathering for the project is currently under way.
Postings for Tusayan Town Council meetings, Bryan said, can be found at the General Store in Tusayan and on the website for the Arizona League of Cities and Towns at http://www.azleague.org/index.cfm?fuseaction=notices.main&m=83. Meetings will be held on the first and third Wednesday beginning at 6 p.m. of each month.
More like this story