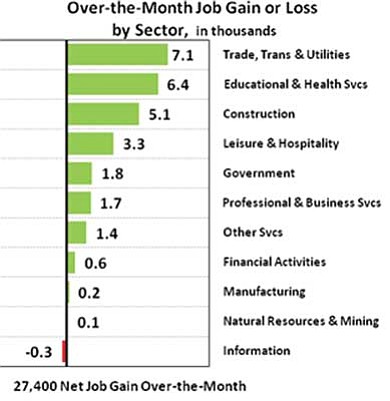 Originally Published: November 24, 2010 8:46 a.m.
PHOENIX, Ariz. - Total non-farm employment gains in October for Arizona are the norm, but gains of 27,400 jobs for October 2010 are above those observed historically and mark the largest job gain since 2004, according to the Arizona Department of Commerce. Arizona's unemployment rate dropped two-tenths of a percent to 9.5 percent for October from 9.7 percent in September. The U.S. rate remained unchanged at 9.6 percent for the third consecutive month.
The non-farm employment gain of 1.1 percent is not only the largest October job gain since 2004, but is above the 10-year average of 0.6 percent. Private sector employment was the driving force behind the gains, contributing 93 percent or 25,600 jobs. Government gains were below average, adding 1,800 jobs, mostly from local and state public education. October typically reflects the return of winter visitors and some preparation for the holiday shopping season.
This is the third consecutive month of over-the-year gains in total non-farm employment, with the rate of gain increasing each month. Arizona has moved up in ranking in the past three months compared to other states from number 36, to 32, to 18 in over-the-year employment growth based on preliminary September data. Educational and Health Services had the greatest over-the-year gain (+13,400) among the sectors. Arizona's Construction industry continues to show signs of improvement and posted its first over-the-year increase since December 2006. Overall, Arizona's employment situation is beginning to show indications of welcome improvements.