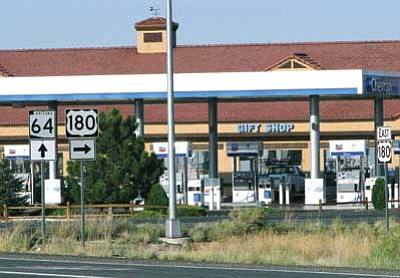 Originally Published: October 6, 2010 2:49 p.m.
FLAGSTAFF, Ariz. - The Coconino County Sheriff's Office (CCSO) is requesting assistance from the public in identifying a male suspect who committed an armed robbery of the Valle Travel Stop located at the junction of Highway 180 and State Route 64. CCSO received the initial report of this robbery at about 9 p.m. Deputies responded from the Williams/Grand Canyon patrol division. According to witnesses, three employees were inside the business and were preparing to close for the evening. At the time of the robbery two Italian nationals were also present and shopping.
The suspect entered the store brandishing what witnesses describe as a blue steel semiautomatic pistol and pointed it at several of the victims. The suspect gave orders to the five victims and restricted their movement. The suspect obtained an undetermined amount of cash and traveler's checks. He left the store on foot in an unknown direction of travel and witnesses did not see a vehicle.
The suspect is described as a male wearing a white Halloween mask, a black long sleeve T-shirt, jean style pants and tan or brown hiking boots. An attempt to locate was broadcasted to all Arizona law enforcement agencies. CCSO deputies and detectives are continuing this investigation. Anyone with information regarding this crime or the identity of potential suspects is urged to call the CCSO at (928) 774-4523 or toll free at (800) 338-7888. City and county residents who want to report a crime but wish to remain anonymous may call Silent Witness at 774-6111 or (877) 29-CRIME. Rewards of up to $2,000 are given for information that leads to an arrest.