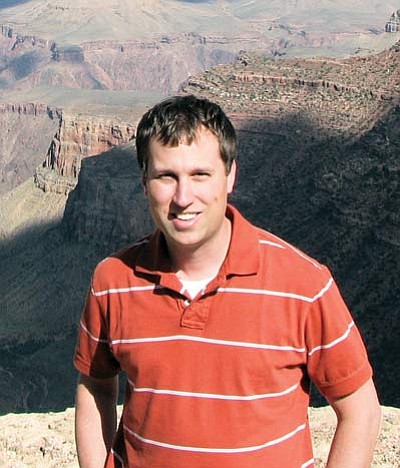 Originally Published: October 19, 2010 1:27 p.m.
GRAND CANYON, Ariz. - Members of the Grand Canyon Community Church at the South Rim of the National Park welcomed new resident minister Patrick Dotson into their fold in September. Dotson, of St. Louis, Mo., came to the Canyon following a ministry trip to Yellowstone National Park, where he conducted 10 interdenominational worship services each Sunday under the leadership of the "A Christian Ministry in the National Parks" (ACMNP) program. That same program brought him to the South Rim. His duties as resident minister began Sept. 1.
"My friend Scott and I basically travelled 'Beverly Hillbillies' style from St. Louis, piling most of my furniture in the back of Scott's pickup truck and towing a U-Haul trailer, with me following in my loaded jeep. It wasn't a pretty sight on the highway, but 1,500 miles later I'm happy to say we made it without losing anything along the way," Dotson said.
Dotson said it was his experience at Yellowstone that brought him to the Grand Canyon Community Church.
"While there I received experience living and working full-time in a national park, while also providing spiritual leadership to park employees, visitors, and my ministry team. I quickly recognized how this ministry was an excellent fit for me, and after returning to St. Louis was hoping to find a way to once again provide ministry in a national park," Dotson said. "That opportunity came this past June when I inquired about this resident minister position with ACMNP, and after a process of phone and Skype interviews with members of the GCCC board was invited to visit the Canyon the weekend of July 22-25 to formally meet the church, conduct Sunday worship, and be presented for a vote by the congregation. I was ordained in St. Louis on July 12, and then was humbled upon arrival at the Canyon when the church unanimously voted to approve me as their pastor. Many doors were opened both in St. Louis and here with the church to enable me to be here, a testimony to the hand of God at work in my life and the Community Church as we were brought together. I am so blessed to now have the opportunity to live and minister in one of the most beautiful places in the world."
His new role will allow Dotson to perform a number of services for the community. Those services include care to park visitors and locals, a parsonage-managed food bank, Christian weddings, memorial services, pastoral care and counseling. Dotson has also recently become a member of the Grand Canyon Rotary on the Rim organization.
"Each summer I will also supervise 16 college and seminary students who arrive from the ministry organization ACMNP to conduct sunset worship services every evening at the West Rim worship site, as well as Sunday morning worship services in Mather campground," Dotson said.
An open house will be held Sunday from 2-5 p.m. at the church, located at 39 Coconino St. Refreshments will be provided, according to Dotson.
"From summer until now, members of the church and community volunteers have worked hard to renovate the church parsonage (39 Coconino St.). They replaced carpeting, installed laminate flooring in the kitchen and dining area, painted the complete interior and exterior of the house, installed tile entrances, replaced appliances, updated landscaping and the garage, and provided other improvements to many parts of the house. Since I have arrived, members of the church and volunteers have also renovated the parsonage office and made other interior improvements. This was a tremendous undertaking for everyone involved, and reflects the stewardship of the church for its property as well as care for its leadership," Dotson said.
A number of other events are also planned for the church, Dotson said.
"I'm excited to announce the launch of a weekly Bible study and fellowship Oct. 27, starting at 7 p.m. at the parsonage (39 Coconino St.)," he said. "The bible study will be interactive and focused on how the Bible instructs us as we seek to grow as followers of Jesus Christ. The Bible study will end by 8 p.m., and then all are welcome to enjoy refreshments and 'hang out' afterward. Also, we offer two worship services each Sunday. Our 8:15 a.m. "express" service lasts 30 minutes and is designed for park visitors and employees who desire an opportunity to worship but already have a full day of activities or work already scheduled. Our main worship service begins at 11 a.m., lasts approximately one hour, and includes Holy Communion and Sunday School for children. Both worship services provide an opportunity for all who attend to encounter God in worship through songs and hymns, Bible-based preaching, the sharing of needs, and prayer. Both worship services are held at the Shrine of the Ages building, located next to Park Headquarters and near Market Plaza. Parking is available in front, and the Shrine is also accessible by the Blue Line, Village Route, shuttle bus."