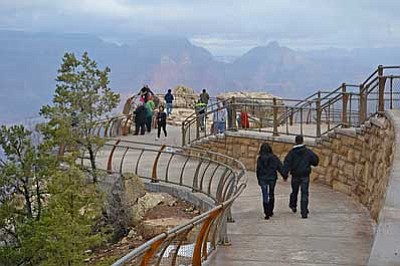 Originally Published: April 8, 2011 12:15 p.m.
GRAND CANYON, Ariz. - As a possible government shut down looms due to stalled federal budget negotiations, National Parks in the United States, including Grand Canyon, are preparing contingency plans in the event they are forced to shut their gates at midnight today.
Shannan Marcak spokesperson for Grand Canyon National Park said park staff are making arrangements for a closure.
"But, we are still hoping by midnight that this is going to turn out to be unnecessary," she said.
All visitor facilities in the park including visitors centers and bookstores will be closed. All roads in the park will be closed as well except for Highway 64.
"Grand Canyon National Park happens to have a major highway/throughway and those roads will have to remain open," Marcak said.
Highway 64 runs through the park from the main entrance and then east at the Desert View junction all the way to Cameron.
Marcak said all roads and pullouts extending off Highway 64 will be closed to public access.
"It's just the highway itself that is open," she said.
Visitors already camping or staying in hotel lodging will be allowed up to 48 hours to make alternative arrangements.
"Of course, we're well aware that people that have been planning this vacation for a long time, they can't just pick up everything and change on a moment's notice," Marcak said.
Marcak added that 48 hours after a government shutdown, the park should have no visitors above the rim.
"But, you do have a community in the park so there will be certain folks who are necessary to protect the park, its resources, life and property within the property. Those types of personal will still be working but all other personnel will be furloughed."
If a federal government shutdown forces park closures, the park service stands to lose a considerate amount of revenue.
"It's a revenue loss both for the park and the National Park Service and of course to some extent the general fund," Marcak said.
If the park is closed over the weekend, the park will lose well over $100,000 in revenue.
A similar federal budget stand-off closed Grand Canyon National Park in November of 1995.