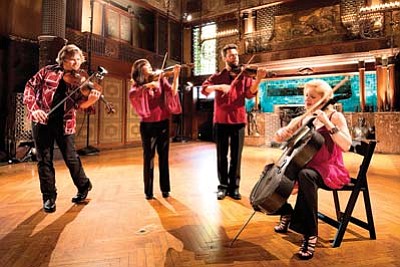 Originally Published: August 23, 2011 8:49 a.m.
GRAND CANYON, Ariz. - The Grand Canyon Music Festival kicks off its 28th season this weekend with performances this Friday and Saturday from one of the premier post-classical string quartets in the country.
ETHEL takes the stage at the Shrine of Ages at 7:30 both days.
Violinist Cornelius Dufallo said the quartet's four musicians, all Juilliard-trained performers, met while freelancing in New York City.
"We all shared a common interest in thinking outside the box musically," Dufallo said. "In a nutshell, we're moving the string quartet into the 21st century. There are several groups that share that goal. And each group is a little different but we definitely have our own approach, our own angle."
That approach includes commissioning new works from current composers, establishing a repertoire for quartet, specifically amplified quartet, and crossing over into other genres of music.
Dufallo said the quartet commissions new works every year.
Ethel's repertoire includes self-composed works along with works by Julia Wolfe, Phil Kline, John Zorn, Steve Reich, Don Byron and Mary Ellen Childs, to name just a few.
Many of those composers work involves some form of improvisatory playing; something Dufallo said makes its way into ETHEL's performances.
"We enjoy improvising. We enjoy playing music that incorporates improvising," Dufallo said. "We've all had experience with improvising of one kind or another. There are some programs that are more connected to the classical world and then there are other programs that involve a lot more improvising."
ETHEL has collaborated with artists like Joe Jackson, Kurt Elling, David Byrne, Loudon Wainwright III and Ensemble Modern and has appeared on stages as varied as Venice Biennale, Sydney Opera House and Lincoln Center.
This weekend's performance will include recently commissioned works by Judd Greenstein, Andy Akiho and Anna Clyne. All three works will include prerecorded elements along with the quartet's live performance.
Greenstein's "Octet 1979" features four prerecorded analog synthesizer parts.
"It's that amazing sound that just doesn't exist anymore," Dufallo said. "That is a fantastic piece that we're just thrilled about."
ETHEL will perform a piece by Clyne that features prerecorded atmospheric sounds and vocals and a quintet by Akiho, a steel pan player, that will feature Akiho's recorded playing.
"I think his approach to steel pan is totally unlike any steel pan I've ever heard," Dufallo said. "He plays it with chop sticks, so he gets this really focused loud and kind of brittle sound. His writing is very note-y with a lot of fast notes. It's very exciting stuff."
The quartet has released several albums since its debut, including self-titled ETHEL (Cantaloupe Music, 2003), which was named one of Billboard's "Best Albums" that year. The group's next recording, Light (Cantaloupe Music, 2006), was selected as #3 on Amazon.com's "Best of 2006: Top Classical Editor's Picks" and ETHEL's most recent release, OSHTALI (Thunderbird Records, 2010), marks the first commercial recording of American Indian student works. The group has appeared as a guest artist on a dozen music labels and was recently featured with vocal group Lionheart on John the Revelator: A Mass for Six Voices by Phil Kline (Cantaloupe, Music, 2008) and the Grammy® Award-winning Dedicated to You: Kurt Elling Sings the Music of Coltrane and Hartman (Concord Records, 2009).
ETHEL. Where does the name come from?
"It's just a name," Dufallo said.
While that may be true, Dufallo added that by calling themselves ETHEL and not the "so and so string quartet" the group is making a small statement.
"We're not your typical string quartet," he said.
For more information, visit www.ethelcentral.com. A complete festival performance schedule is available at www.grandcanyonmusicfest.org.