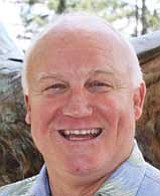 Originally Published: August 30, 2011 9:27 a.m.
Hi Tusayan residents and visitors.
I trust this finds all of you well and enjoying our beautiful summer. The highway project continues to move along nicely and the ADOT State Board really enjoyed their time in Tusayan recently and looks forward to coming back again.
At a special Council meeting last week Council Member Bob Blasi announced his immediate resignation from the Town Council for personal reasons. Blasi has been an active and vocal member of the council and we wish him well as he continues to support the things he believes in and building a quality town of invested residents.
The council will now begin the process of appointing a new member to fill the vacancy. If you are a resident living inside the town limits of Tusayan and have an interest in serving on the council, we would ask that you provide us with a letter of interest. The letter should include name and address (physical as well as mailing) contact information, reasons why you would like to serve on the council and any background or experience that you feel would be pertinent to serving on the council. You can either email the Tusayantownmanager@gmail.com or mail it to Town of Tusayan, P.O. Box 709, Tusayan, AZ 86023. For more information you can call either myself at the number below or the Town Manager, Enrique Ochoa, at (928) 638-9909. This is your town and we encourage residents to become involved in building our community. We hope to fill the position in the very near future.
The public process of reviewing and getting public input on the three Stilo development applications is under way. There was a Planning & Zoning Commission study session last week which was well attended and a town staff open house earlier this week to gather public input. This is a public process and we want to encourage everyone to be a part of it. We are setting some significant courses for our town and how it will look in 5-20 years and each of our residents needs to be part of the process of choosing what we will look like in the future. Thank you to those who have a made the effort to attend and provide input.
Our next council meeting will be Sept. 7 at 6 p.m. at the Squire Inn. We hope to see you there. Have a great week.
Respectfully,
Greg Bryan
Mayor, Town of Tusayan
gbtusayan@gmail.com
928-638-8401
More like this story