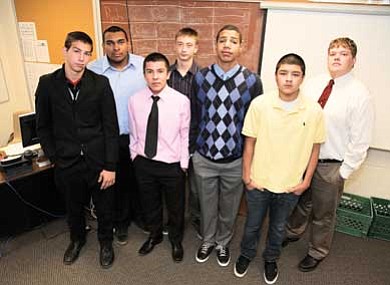 Originally Published: December 6, 2011 10:06 a.m.
GRAND CANYON, Ariz. - After three road games in four days, The Grand Canyon Phantoms boys basketball team emerged tired but with two wins.
The Phantoms toppled Tuba City 67-47 Nov. 30 before falling to El Capitan 63-46 Dec. 2. The team bounced back to best the Fredonia Lynx 62-39 Dec. 3.
This season finds the team with a new coach in David Beery. Beery makes his way to the Canyon after a stint as a sophomore coach at Bozeman High School in Montana. Bozeman, a school of around 2,000 students, fielded five basketball teams to Grand Canyon's one.
Beery said despite losing two senior players from last year's squad, this year's team looks to hold a lot of promise.
"We have a couple freshman and some sophomores that were in the program last year who are going to have a lot bigger role this year," he said. "I think early in the season the challenges are always team chemistry and team identity, especially with a fairly young team. These guys are trying to figure out who they are and how they are going to function as a team. You want your whole to be bigger than the sum of your parts so we are trying to get there right now."
The Phantoms had a solid first half building a 32-20 lead against Tuba City. In the third quarter, Grand Canyon pulled away, outscoring Tuba City 23-10. Joey Bankston led the Phantoms scoring 13 of his 28 in the quarter, including two three-pointers and a fast break dunk. Tuba closed the gap in the fourth with a press that gave the Phantoms some problems, cutting the lead to 12. The Phantoms battled through to pull out a 67-47 win.
"The boys were excited to open the season with a win in a hostile environment, where they haven't won in awhile," Beery said. "Tuba was a quick, athletic team and didn't give us many open looks. We had some problems with cramping as Jordan Knight, Jared Ruyle and Bankston had to be helped off the floor, including Knight twice."
Beery added that Bankston contributed to the win creating match-up problems with his length and was able to stay out of foul trouble after picking up two fouls early in the first quarter. Knight also provided solid play from the guard position.
"Knight had some clever moves to the basket and finished with 14," Beery said,
Senior point guard Ruyle provided steady leadership throughout the game dishing out 10 assists in addition to his five points.
The boys junior varsity squad lost to Tuba City 45-24. Justin Jarrell led the Phantoms with nine points.
The Phantom girls lost 61-4 with Katreena Haswood and Morgan Timeche each scoring two points.
Beery said the Phantoms have room for improvement defensively.
"I think they need to get a little tougher mentally," he said. "On a positive note though, I think we have really good senior leadership in Ruyle. He's done a really good job in practices keeping the tempo and keeping the guys on task and has been a positive for the team.
On Dec. 2, Grand Canyon again hit the road to play the El Capitan Eagles in Colorado City.
Beery said El Capitan has a solid, well-coached, and experienced team.
"They defended us extremely well and made it difficult for us to get into our offense," he said.
After a close first quarter, Grand Canyon took a one point lead late in the second quarter, but El Capitan finished the quarter on a run to lead 27-22 at halftime. In the third quarter, the Eagles dominated the Phantoms outscoring them 21-4 and hitting four three pointers in the quarter. That 17 point difference matched the final 63-46 outcome in El Capitan's favor,
Despite playing a determined fourth quarter the Phantoms never seriously threatened the Eagles.
"El Capitan was disciplined and well-coached," Beery said. "It will be tough for anyone to beat them in their gym. They have a nice inside-out tandem in the guard Barlow (29 points) and post Gaitlan (13 pts). They made us work very hard to get any offensive momentum and really pulled away when the started hitting from outside in the second half. Our kids continued to play hard."
Ethan Berry made some big defensive plays and had some hard drives to the basket in the fourth quarter. Bankston scored 16 despite extremely tough and physical defense from Gaitlan all night long.
"Our kids have nothing to hang their heads about," Beery said. "This El Capitan team really showed us where we need to be if we want make it to State."
The JV boys lost 44-24 to El Capitan. Jarrell led the Phantoms with nine points.
The girls varsity team got their first win of the season 33-30. Haswood had 12 points, Timeche 11, and Cori Yazzie nine points.
On the heels of the varsity loss, the Phantoms headed to Fredonia. After a sluggish first couple of minutes, Grand Canyon's man-to-man press set the tone for the boys to win against the Lynx.
Beery said despite poor execution early in the game, his team was able to force some clutch turnovers and get 62-39 the win.
"The boys were a little tired from their third road game in four days, but kept playing hard throughout the game," he said. "Some guys who have been working very hard in practice, but had limited opportunities in varsity games got a chance to play. Fredonia was disciplined and ran their stuff very well."
The JV boys got their first victory of the season 37-30. Tyler Jones led the way with 12 points followed by Jaru Velazquez with six points.
The girls lost 35-25. Haswood scored 11 points and Timeche had nine points.
The Phantoms are now 2-1 on the season.
As the season progresses, Beery said he is looking for leadership from some of his younger players.
"Luke Streit is a junior and has some varsity time," he said. "Ethan Berry and Joey Bankston need to step up and help take a little bit more of a leadership role. We have Christian Beraga who just moved here. He's a junior and he's had some experience playing at a large school so he's helped out too."
This season, the AIA's new automated scheduling has created a front loaded travel schedule for the Phantoms.
"I think the automated scheduling works very well in Phoenix and other metro areas, but there is a lot of travel," Beery said. "Some of the mid-week travel is going to be a strain on us this year."
The Phantoms head to Seligman Saturday and then travel to Flagstaff to take on Northland Prep on Monday. They play Ash Fork at home Dec. 16.