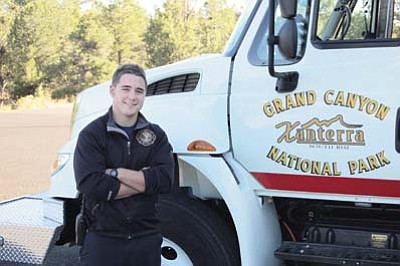 Originally Published: December 29, 2011 1:39 p.m.
NPS releases draft overflight plan
A draft plan addressing noise impacts at Grand Canyon due to air tour flights issued by the National Park Service Feb. 2 aimed to restore natural quiet on the ground but allow for increased air traffic above the Canyon.
The plan allows for 8,000 more flights over the Canyon per year for a total of 65,000 while at the same time moving some route away from sensitive cultural, natural and visitor areas of the park. The plan also sets a daily cap of 364 flights over the Canyon per day.
An overflight plan is required by the 1987 National Parks Overflights Act. Before the Park Service could move forward, a definition of "natural quiet" needed to be established.
According to then Acting Park Superintendent Palma Wilson, natural quiet will have been achieved when 50 percent of the park is absent of aircraft noise for 75-100 percent of the day, every day.
"The National Park Service considers 50 percent a minimum restoration goal," Wilson said. "As we work forward and work through this draft plan, our plan would actually restore natural quiet to 67 percent of the park over a 10 year life span."
If approved, the plan would move most non-air tour operations outside the park, require air tour operators to convert to quiet technology within 10 years and provide for one hour of air traffic free time after sunrise and before sunset each day.
Wilson said park officials have attempted to provide growth opportunities to the air tour industry while still protecting and preserving resources in the park.
"We feel that as we look at some of the caps and other things, we have provided that growth opportunity," she said. "We also wanted to make sure that we still provided a spectacular air tour. We realize that for many people, the way that they will enjoy the Canyon is they will actually take an air tour and view the Canyon from above."
Steve Bassett, president of the US Air Tour Association, said he had just begun the process of reviewing the plan. He said growth in the air tour industry at the Canyon is unlikely if the draft plan moves forward.
"After 20 years of doing this, do you think they're actually going to provide us with opportunities for growth? Not a chance," he said. "The Park Service has done the unthinkable but not the unexpected; it has broken its public promise to the air tour community to not propose measures designed to drive the industry out of existence in the Grand Canyon which this will do. It is an untenable breach of faith."
According to Rick Ernenwein, with the NPS office of Planning and Compliance, the plan increases flights in areas of the park where environmental impacts are little to none and decreases flights in other areas.
While quiet technology will be mandatory after 10 years, there are incentives included in the plan for early adopters, including access to some restricted air routes.
"Those folks that are flying quiet technology would be able to do the long routes year round," Wilson said.
Each air tour operator has a certain number of authorizations to fly. An authorization, called an allocation, is necessary for each flight.
"In the case of the quiet technology incentive, they won't have to use an allocation for flights with quiet technology aircraft for those three months of the year," Ernenwein said. " They can use those allocations for a non-quiet technology flight or a quiet technology flight later in the year."
The plan is based on 2005 air traffic numbers. A working group was established in 2006 consisting of NPS representatives, Federal Aviation Administration representatives, air tour operators, and environmental groups, among others. The group helped to devise the current draft.
Wilson said house and congressional representatives have been supportive of the plan.
"All along the way, every single step, we have kept Senator McCain, Senator Reid, Senator Ensign, and the house side, Senator Kyl all very, very informed at every step of the way," she said. "Indications are at this point at least that they are supportive. We will see after they read the draft and we have a chance to brief them again.
Local firefighter revives visitor to Canyon after sudden cardiac arrest at Bright Angel Trail Head
First responders work to save lives every day, but contrary to what some might think, saving a life is a rare experience for firefighters and paramedics.
Shane Crowe, a firefighter and EMT with Xanterra Fire and Security at Grand Canyon, revived a visitor to Grand Canyon after cardiac arrest this year, often a once in a lifetime experience.
While checking email, Crowe received a call over the fire and security frequency around 6:40 a.m. on Sept. 11 from one of the wranglers at the Bright Angel Trail Head.
"They only do that if they need something really immediate," Crowe said.
Before the transmission broke up, the wrangler stated a guest had fallen down. When Crowe was able to reconnect on the call, the wrangler said CPR was in progress. Crowe made his way to the scene as fast as possible.
One of the bystanders at the scene, an EMT, had begun CPR. As Crowe unloaded his gear, including an airway kit and Automated External Defibrillator (AED), he asked how many rounds of compression had occurred and how long the patient had been down.
"Since there was an EMT there, they had good compression going," Crowe said. "She was one of the people on the tour and jumped in on her own. I had everyone continue what they were doing."
Crowe then placed the AED pads on the patient and commenced to shock the victim followed by more CPR. After three rounds of shocks, Crowe said the patient's heart began to beat on its own.
"Right before the National Park Service paramedics showed up. The AED got a heartbeat back and no more shocks were advised," Crowe said.
The victim began to breathe on his own after paramedics administered drugs used for that purpose. The paramedics then transported the victim to Flagstaff Medical Center.
Greg Brush, also a firefighter with Xanterra, said a save like Crowe's is usually a once-in-a-lifetime achievement.
"What Shane did was rapid intervention with an AED which is usually your best shot," Brush said. "Nobody has ever survived my CPR. I've done it three time and I've never shocked anybody and I've never had a save."
Crowe said saving a life definitely feels good.
"To be able to run a scene like that solo is a really, really rewarding feeling," he said. "Being a leader. Definitely very humbling."
Three die in RV fire at Grand Canyon
The bodies of three people found inside of a recreational vehicle that burned at the South Entrance to Grand Canyon National Park in October were identified as those of Anthony Dehaven and his two juvenile children.
Investigators believe Dehaven shot his two children before igniting a fire in the RV and then turning the gun on himself. It is important to note that investigators are continuing to examine all potential leads and that additional investigation is ongoing.
The investigation into the incident was conducted by the National Park Service with support from the Flagstaff Fire Department; Coconino County Medical Examiner's Office; Federal Bureau of Investigation Evidence Response Team; and the Bureau of Alcohol, Tobacco, Firearms and Explosives.