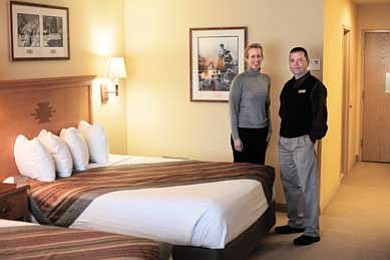 Originally Published: February 22, 2011 2:18 p.m.
TUSAYAN, Ariz. - The Squire Inn is getting a facelift.
In September, officials at the Grand Canyon Squire Inn agreed to upgrade their services and amenities to become a "Premier" property. All renovations will be complete in the fall.
The Best Western company is transitioning to three property ratings, Premier, Plus and Best Western.
Freda Rahnenfuehrer, director of sales and marketing for the Squire Inn, said the property ranking system is new in the U.S.
"It's going to have these three tiers nationally," she said. "Right now, they only do that in Europe and Asia."
Best Western operates under and ownership system, not a franchise system. Each Best Western hotel is individually owned and operated.
Rahnenfuehrer said this is good and bad.
"The plus is they all have their own unique flavor but the downside is sometimes someone goes to a Best Western here and has an amazing experience and then they're in Iowa and it's a basic 50 room hotel on the side of a freeway," she said.
Becoming a premier property requires quite a few upgrades to the premises and amenities.
Carpeting throughout the property will be replaced. All rooms now feature microwaves and new furniture. Landscaping around the property must now meet Premier standards.
Rahnenfuehrer said the property will be inspected in May before being allowed to use the Premier label.
A national ad campaign will launch in the coming months to announce the property classification system.