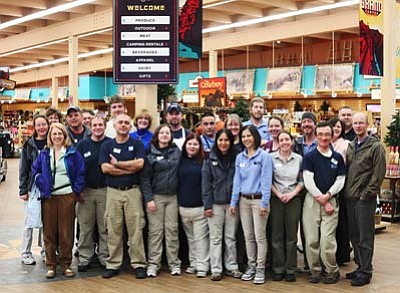 Originally Published: January 25, 2011 2:34 p.m.
GRAND CANYON, Ariz. - Grand Canyon's General Store has a long and storied history and celebrates 40 years in its current location on Friday.
As early as 1904, the Babbitt Brothers operated a tent curio stand at the Bright Angel Hotel, which was erected in 1896 on the south rim of the Grand Canyon. In 1921, the Babbitt Brothers Trading Company obtained the concession to operate a general store in Grand Canyon Village.
In 1926, construction began on a new store located across from Ranger Operations at a cost of $43,625. The building was later remodeled in 1928 and again in 1947 and 1954.
In 1969, construction began on a new General Store in its present location next to Yavapai Lodge. The 27,000 square foot structure cost $500,000 to build. A grand opening was held January 28, 1971. The old store building was used as a recreation center until it burned in 1994.
The general Store/Canyon Village Marketplace has undergone several remodels over the years.
• 1987 - Grocery backroom built on to existing structure.
• 2001 - Interior remodel. Fixtures, signage and paint receive update.
• 2003 - Deli remodeled.
• 2009 - Complete $1 million remodel.
Today, DNC Parks and Resorts operates the store as well as Desert View Marketplace and the Tusayan General Store just outside the park entrance.
More like this story