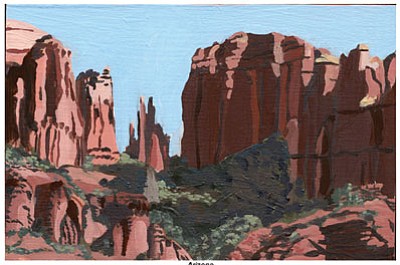 Originally Published: June 21, 2011 2:05 p.m.
GRAND CANYON, Ariz. - When it comes to addressing environmental concerns in the United states and elsewhere, painter Liz Roth, Grand Canyon's South Rim Artist-in-Residence from June 16-July 9, tackles the issues with a lighthearted touch.
Painter Liz Roth's work is both visually beautiful and subtly narrative; her work often addresses environmental issues in a humorous and poignant way. One of her recent projects, an ambitious painting series, involved traveling to all 50 states collecting photographs of some of the country's most unique and iconic landscapes, and when back in her studio painting two very small-scale paintings of each state. The resulting paintings were exhibited as an installation piece, flanking a huge, billboard-sized painting of a plastic water bottle. This installation titled America 101 reminds us that our unconscious use of throw-away containers has become one of the United states' biggest issues with rapidly growing landfills.
According to Roth's website, the project addresses the prevalence of water bottles in the United States, a country "with pure drinking water at almost every tap, the very creation of the plastic water bottle takes three to six liters of water. Plastic bottles are a serious disposal issue in landfills, and it's estimated a quarter of the bottle's volume in oil is required for manufacturing bringing any given bottle to market. As the artist visited each state, and found landscape vistas, the sense that these areas would eventually be choked with landfill was omnipresent."
Roth is an award-winning, nationally and internationally exhibited artist who has been an artist-in-residence at the Wrangell Mountain Center (Alaska), Jentel Artist Foundation (Wyoming), the Awagami Paper Factory (Japan), the Kamiyama (Japan) Artists-in-Residence program, and the Vermont Studio Center. She has received numerous prestigious painting grants including the Wisconsin Arts Board Individual Artist Fellowship, the national Ludwig Vogelstein Foundation grant for painting, Oklahoma Visual Artist's Coalition Grant 365, and OVAC's Creative
Projects Grant. Her works have been acquired by many national and international collections, including the Walker Museum of Art, the Museu del Joguet in Spain, the Museum of Awa Japanese Paper, and the KAIR Contemporary Art Collection. After her arrival at the Canyon June 16, Roth learned that she received tenure at Oklahoma State University, where she has been teaching drawing, painting and art business courses for the past 8 years.
While in-residence, Roth will meet with environmental education students, spend 4 days in the north rim's artist-in-residence space, and present an evening program artist talk PowerPoint about her United States-inspired, environmentally inclined paintings. This program is scheduled for June 27 at McKee Amphitheater at 8:30 p.m. The artist programs are free and all-ages appropriate. Mark your calendar and come out to hear about this most remarkable artist's newest projects.
For more information about Roth's work, visit www.lizroth.com.