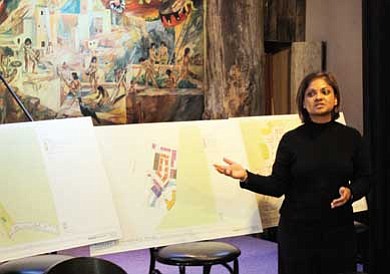 Originally Published: March 15, 2011 3:18 p.m.
TUSAYAN, Ariz. - Affordable housing, an educational visitor center and more restaurants and shops are all possibilities in Tusayan, according to representatives of the Stilo Group.
Phoenix-based building planner Andy Jacobs from Policy Development Group and zoning and land use attorney Manjula Vaz from Gammage & Burnham P.L.C. met with the public March 3 for preliminary discussions regarding the development of the Kotzin Ranch, Camper Village and Ten-X parcels in and around Tusayan. The meeting was the first of several to be held throughout the planning process.
After receiving a letter from Grady Gammage Jr., representing StiloGroup Inc., on Feb. 2 Tusayan Town Council members voted unanimously to move forward with a planning study and to accept reimbursement of planning costs by Stilo Group.
Stilo Group owns 375 acres in and around Tusayan, including Kotzin Ranch on the northwest end of town, Ten-X Ranch, located just outside the town's border, and Camper Village, which is partially owned by the group. They plan to develop this land for housing as well as multi-use facilities.
According to Vaz and Jacobs, acting as representatives of Stilo Group, Kotzin and Ten-X have the greatest potential for housing structures due to their location. The properties are far away enough from the center of Tusayan to limit the traffic and airplane noise, but still within walking distance of the town center. The development would require annexation of Ten-X property into Tusayan town limits.
Stilo plans to build a range of housing options for Ten-X, consisting of a mix of single family homes, town homes, multi-family apartments, mobile homes and a small retail element for residents. After housing is built, plans call for further expansion with a recreational vehicle park and spa resort or conference center hotel.
Jacobs said he expects demand for a variety of housing options.
"People are going to want to buy all types of different homes, and we have it all. If somebody wanted to be a part of this market and buy a home, we aren't trying to stop anyone," Jacobs said.
At Kotzin, the planners foresee a range of affordable housing for Tusayan residents as well, including multi-family, town homes and condominiums, and single-family residences for rental or private ownership. They also wish to build a mixed-use 'educational campus' that would draw a range of visitor-oriented uses, intended to interpret the Colorado Plateau. This is planned in order to extend and improve the visitor's stay.
Vaz and Jacobs suggested Tusayan's town center be located at Camper Village, which they said would bolster Tusayan's economy. More restaurants, shops, a community events center, plazas, sidewalks, bike paths, and more are on tap for this property to create more jobs in the area.
But, both planners said these ideas are extremely preliminary with plenty of research still in the works.
"I think we still have a lot of work to do in terms of studying the (economic) markets and seeing what it will bear and how many people it will bring in," Jacobs said. "This is going to be a long process regardless. We are in the process, but we don't have the numbers right off the bat. Remember this is just the first meeting of several."
Camper Village would also be reserved for temporary housing if the need arose while infrastructures are built at Kotzin and Ten-X locations.
Stilo has agreed to cede 40 acres of property to the town of Tusayan for housing or civic uses. All are in agreement the land would be used for housing.
"First of all, what we have always said is that 40 acres of our property will always go to the town, we have told the town that, the town wants to deal with affordable housing with that 40 acres, so we are committing to our pledge to donate 40 acres," Jacobs said.
Depending where most of the housing is built within the 40 acres, Stilo planners hope to see future additions such as a grocery store, pharmacy, laundromat, church and other neighborhood services in order to bolster the feeling of a community neighborhood. But Jacobs added that the dialogue for that portion would have to be between the town and the public.
Before any of these plans are confirmed, Jacobs stressed the importance of public input.
"Housing comes first, before any commercial is ever built, we will address housing first," Jacobs said. "The businesses are obviously very important to us, so we want to keep you involved and engaged throughout the entire process."
Jacobs and Vaz stressed throughout the presentation how vital they considered the transparency of their progress, planning to return in late March or early April with new developments for the public to see.
"What we want to do is, first of all let you know where we are coming from," Jacobs said. "We have started to put some plans together, and we wanted to let the town know right off the bat and let you know where we are in the process."
Vaz reminded the public that the ideas are all conceptual, and that nothing has been approved yet. She said they are looking for the public's thoughts and ideas.
Grand Canyon Schools Superintendent Sharyl Allen expressed concern about the definition of "affordable."
"The conversation has been about people being able to have housing separate from their employers, but you talk about affordable," Allen said. "What is affordable to one person may be completely unaffordable to other. So throwing that term out very generically is a big question mark. What exactly do you mean by affordable?"
Jacobs said a more detailed definition of affordable will be defined in future meetings.
"But, remember that 40 acres is a big chunk of land so continue talking to your town council because that is a question they have to answer to," Jacobs added.
Representatives from Stilo said they hope to ultimately generate economic growth in Tusayan, after building housing infrastructure. The goal is, along with providing affordable housing, to provide housing that is not owned by employers, creating more job freedom and choices.
"The housing that is provided into the community is to make those businesses grow. That is the bottom line," Stilo Developer Tom DiPaolo said.
Visit www.Tusayansfuture.com for more information.