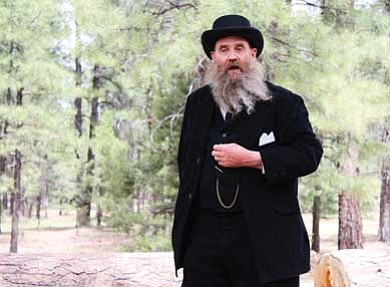 Originally Published: May 3, 2011 2:20 p.m.
GRAND CANYON, Ariz. - Strolling around a cemetery with a dead man sounds like it should be reserved for Halloween, but a group of intrepid Rotary on the Rim members did so with smiles on their faces.
Dressed to the nines in period costume, the "dead man" in question was Grand Canyon Park Interpreter Ron Brown, aka Captain John Hance, who offered Rotarians an insider's perspective at the Grand Canyon Pioneer Cemetery on April 28.
"In it's purest form of living history, you must dress like your character right down to your underwear," he said. "Not that anybody's ever going to see your underwear, but apparently you move differently in the hand-woven boiled wool than you do in the modern stuff."
Every stone in the cemetery has a story, Brown explained before switching into character. The stories he told Rotary members, in his words, were about the people who made the Grand Canyon what it is today.
"Literally, every person out there had a value to this place," Brown said. "A person could spend weeks, or days or month in this cemetery and each place has something sacred about it, something special about it, something worth knowing."
Hance led the group to several graves, including Emery and Ellsworth Kolb, Eddie McKee, ending the tour at his own resting place.