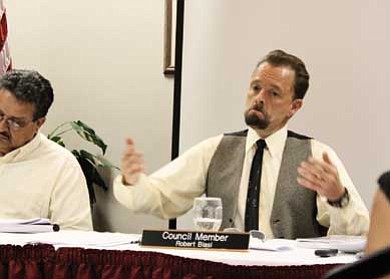 Originally Published: May 10, 2011 2:16 p.m.
TUSAYAN, Ariz. - Confusion surrounding Tusayan's current law enforcement contract with the Coconino County Sheriff's Office (CCSO) surfaced at the May 4 regular meeting of the Tusayan Town Council.
In order to terminate or modify the agreement, a notification must be submitted 120-days prior to the end of the contract that ends June 30. Something that did not occur.
The contract dictates the town is bound to a yearly payment of $355,046 for CCSO services, unless they are able to negotiate otherwise.
Judge Bill Sutton, law enforcement consultant to the council, presented information April 6 to the council that they are paying the highest sum in the state to maintain their current law enforcement situation.
Sutton said the current law enforcement contract with Coconino County and Tusayan, costing the town $30,000 per month for the same level of service received before incorporation, should be revisited. In his report, Sutton outlined various options to consider as the contract comes up for renewal.
Tusayan Town Manager Enrique Ochoa explained to council members the contract requires a 120-day notification if they choose to terminate their agreement with CCSO, and now expires June 30, 2012.
"We are tied in right now for at least another year," Ochoa said. "I wasn't here four months ago when a notice could have been given to the Sheriff's Department from the town so now we have been working with the Sheriff's Department to try and get some modifications to the agreement that we currently have with them."
Ochoa added that town staff has requested on various occasions for the CCSO to provide a cost summary to the town so they could reevaluate the contract, but have been unable to get a response. What the town did receive was a commitment from CCSO to have an officer available from 8 a.m. to 5 p.m., five days a week, as well as make some minor adjustments to the current cost.
"The minor adjustment they offered was $9,600, that had to do with a payment for dormitory provisions for the lease of a trailer for the Sheriff's Dept to utilize," Ochoa said. "Based on all of these things that I took into account, my recommendation for the council is that no action be taken."
Currently, the council is paying the CCSO $355,046 a year for their services.
Not all council members are happy with the service provided by the county as well as a perceived lack of transparency.
Council member Bob Blasi said he was under the impression the agreement with CCSO was still under an extension, under which the council could modify or terminate the contract. Ochoa explained he had no written documentation that provides for any extension.
"I want to repeat back what I thought I just heard, that in fact the extension that we thought was open for some time was in fact closed?" Blasi said. "I thought that I clearly heard Ms. Seelhammer and Mr. Pettit both indicate to us that the extension was still an option. It wasn't simply to modify the contract, but also an option to terminate it. I'm surprised, obviously, by this."
Vice Mayor Cecily Manaci also said she was unaware they were still bound to CCSO's contract.
"I didn't think that I understood it as well as you either. I didn't understand that we are already deep into another year of a contact," she said.
Ochoa said there are steps that could be taken if the council decided to terminate the agreement.
"If you want me to notify them that this council wants to terminate the agreement, there is a provision to do that and I have to do that 120 days prior to the termination of the contract," he said. "If there is specific dispute then we have to enumerate, we have to quantify that we have to provide that for them and in the formal type of complaint. Which will then trigger the mediation process."
Mayor Greg Bryan said as a council, intent should be placed on negotiating a fair agreement with CCSO even if that necessitates taking more time.
Blasi went on to say he considered the lack of response "stalling and filibustering" on CCSO's part.
"That is not negotiating, by any standard," Blasi said.
Council member John Reuter said he to was under the assumption that talks were ongoing, and even though there was a contract, it was open-ended.
"I think the first step is to figure out where we are at," he said. "I think this topic is sensitive, we don't want to alienate the county, we are working together, but we do need a firm answer. Yes or no."
Emphasizing how important he felt the issue of law enforcement is, Blasi told council members what he felt was needed from CCSO, and what he felt the department has not been providing.
"We want a reasonable product with a reasonable price, that's not gouging and in the study that Judge Sutton has provided for us, we are paying the largest and highest law enforcement contract in the state and getting the smallest amount of service for it. What part of that does anyone not understand?"
No action was taken on the item. Ochoa said staff will write to CCSO requesting information.
"I have reviewed the contract and there are provisions in the contract that allow for demanding information from them, demanding that they share the data that has been accumulated regarding services they have provided to date," he said. ¬¬
More like this story