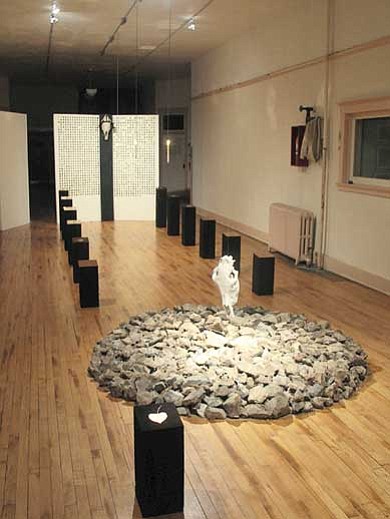 Originally Published: May 17, 2011 2:03 p.m.
GRAND CANYON, Ariz. - Grand Canyon National Park is pleased to welcome May artist-in-residence Shawn Skabelund, a place-based, site-specific, conceptual installation artist.
Just what is placed based, site specific, conceptual art? Place-based means Skabelund creates works carefully crafted to be specifically relevant to the location at which they are shown. Site-specific means the work is designed to fit exactly into a predetermined exhibit area. Conceptual, in this case, means Skabelund is an idea-driven artist - his work seeks to tackle difficult and often controversial contemporary political and social issues.
Installation art is meant to be exhibited as a large-scale singular piece, creating an evocative environment. As opposed to the idea of individual works - such as sculpture or paintings - that are intended to stand on their own and can travel and be shown in many contexts, installation art is a collection of inter-related artwork that is related to all other elements in the installation, tends to be mixed-media, and most commonly fills an entire gallery or space. Installation art often includes sound, projections and video as integral or exclusive elements of the work.
Skabelund's past work has frequently focused on indigenous people's rights, but he is currently developing a new body of work tackling the uranium mining issue - the focus of his south rim residency and a future installation exhibit.
Skabelund lives in Flagstaff where he is a lecturer in the School of Art at Northern Arizona University. He teaches anatomy for artists, figure drawing and site-specific, place-based installation art. He holds a BFA in drawing from Utah State University in Logan and a MFA in drawing/painting from the University of Iowa in Iowa City. Skabelund has an extensive national exhibition record with more than 40 large-scale installations at venues throughout the U.S., 29 of which were part of solo exhibitions. He received an Individual Artist Project Grant from Arizona Commission on the Arts in 2003 and the 22nd Rosen Outdoor Sculpture Competition and Exhibition (2008), sponsored by the Turchin Center for the Visual Arts at Appalachian State University in Boone, North Carolina.
Because of the large-scale and conceptual nature of Skabelund's work, he plans to spend his residency doing research in the National Park Service archives and collections and meet with locals who can enlighten him about the uranium mining issue as it pertains to the region and the park. He'll return to the South Rim in a year or two and install his final piece.
Skabelund said he has been creating large scale installations that examine a variety of social and ecological issues related to the interaction between cultures and the natural landscapes that those cultures inhabit since
"My work explores what Wendell Berry calls the 'unsettling of America,' namely the marks European-Americans have made on the land," he said. "Since my arrival in the southwest twelve years ago, I have become interested in the cultural and ecological history of this region. Even though this awe-inspiring landscape, millions of years old, was federally designated to be preserved, the priorities of our 'settling' have had a tremendous and, at times, damaging effect on this place. It is these 'marks' that I will explore more in-depth as an Artist-in-Residence."
While in residence Skabelund will be presenting an artist talk to Grand Canyon High School art students. Because he will come back to install his final piece in the future, he'll be presenting his other public outreach programs when he returns. These outreach requirements will be in the form of gallery and artist talks and be specifically about the finished work.
The exhibit phase of this residency does not yet have a date - please check back at www.nps.gov/grca/supportyourpark/air.htm for updates or contact Rene' Westbrook, AiR program coordinator, and request to be added to the Friends of the Arts data bank. Westbrook sends out regular announcements about artist programs, workshops and other artist-in-residence program information of interest to locals and the public.
If you would like to meet with Skabelund to talk about or contribute to this project, please contact Westbrook at Rene_Westbrook@nps.gov.
More like this story