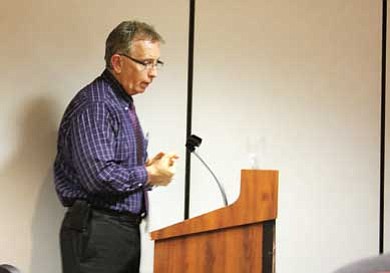 Originally Published: May 31, 2011 2:10 p.m.
TUSAYAN, Ariz. - Discussions continued regarding the town of Tusayan's current law enforcement agreement with the Coconino County Sheriff's Office (CCSO) at the council's regular meeting May 19.
Town Manager Enrique Ochoa presented a letter to the council that past interim town manager Cynthia Seelhammer sent to the CCSO on Feb 17. Ochoa recently found the correspondence in the town's fiscal files. Ochoa said the letter acts as a notice to CCSO that the town would like to make changes to their current CCSO contract.
"The middle paragraph says, 'please accept this letter as a notice that the town would like to consider changes to the inter-governmental agreement,'" Ochoa said. "The wording is different, I'm not an attorney. I said to myself, 'I'd better present it to the council so that they have a chance to see it.' My recommendation is to refer this letter to the town attorney for formal analysis as to whether sufficient legal notice was given to the Sheriff's Department."
According to Ochoa, he has found no response from CCSO and the department has not said whether they received the letter in question, although Seelhammer reported to Ochoa she had mailed the document. Recently, Ochoa was emailed a response that the CCSO was still working on supplying an answer, and will be forthcoming with a response.
The council voted to follow staff's recommendation to turn the letter over to the town attorney for formal analysis to determine whether sufficient legal notice was given.
Contract amended for Judge Bill Sutton
Council voted to amend Judge Bill Sutton's contract, adding a miscellaneous service clause in order for Sutton to greater assist the council.
Ochoa said the amended contract allows Sutton to provide a variety of services to the town.
"Services can be requested by the town manager for a specific service on an as needed basis. The ones that I included in there were services that may include such work as municipal court, code enforcement, grant research and writing, which is what he is helping me with right now. The point is that this is a miscellaneous clause that allows us to work in various ways and use his professional services in various ways," Ochoa said.
Ochoa also recommended to the council they increase the maximum number of hours that Sutton will be allowed to work, up to 120 hours per month, still leaving him a part-time employee.
The contract will also allow flexibility in Sutton's salary, in order for him to complete a variety of work, which may require different pay scales.
Mayor Greg Bryan clarified that the addendum was a modification and not a new employment contract. Sutton is still in a consultant position with the council.
More like this story