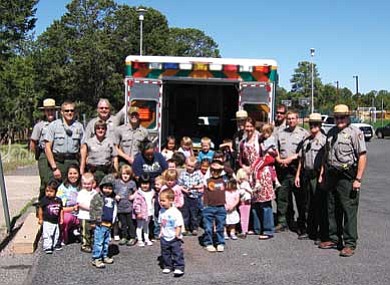 Originally Published: May 31, 2011 2:18 p.m.
GRAND CANYON, Ariz. - For the children at the Kaibab Learning Center (KLC), what began as a routine Wednesday morning quickly transformed into something unforgettable when National Park Service (NPS) Rangers arrived.
The idea of Chief Ranger Bill Wright and his wife, rangers from Visitor and Resource Protection Division unloaded an ambulance full of food and craft donations for the Center on May 25.
Wright and his rangers recognized KLC had a need, and fulfilled it.
"KLC is a non-profit organization, but it is one that we depend on pretty heavily when it comes to recruitment retention," Wright said. "If there was no daycare, our recruitment pool would be either folks with older children or folks with no children. We would be looking for couples with no kids or singles."
Wright's private acknowledgement of appreciation turned into a public crusade to assist the center, rousing park individuals to contribute to the needs of KLC and, at the same time, helping the park's law enforcement division's reputation. A division Wright says isn't always seen in a positive light.
"I was looking for something, from a community standpoint where we could be more positive, and it looked like a great opportunity," he said, adding helping KLC with donations engaged his colleagues in the resource protection division to reach out to their park neighbors.
After a month of collecting items for KLC, delivering them to the children at KLC earned smiles on everyone's faces, big and small. Wright said the collective effort, which materialized just in time for the center's busy summer schedule, will hopefully become a mainstay in the community.
"Maybe three or four times a year we can give stuff that they don't necessarily have the funds to go out and purchase," he said. "It was kind of like Christmas for them. So all and all it was really positive and I was really pleased with it."
KLC Director Jeanne Yost worked with Wright and the
rangers, supplying a wish list of supplies for the center.
The most indispensable donation?
Yost said simply having enough food for the children. Often, KLC staff supplements food when children don't have enough or parents forget to send it along with their child.
"Instead of calling a parent out of work to bring food we can just supply it for them now," she said. "It helps things run smoother and helps us problem-solve on the spot instead of having to call parents out of work."
In the end, KLC staff may have breathed a collective sigh of relief over the much-needed donations, but the children were more immersed in the vehicle the donations were delivered in.
"They loved the ambulance, every time they see truck or a fire engine it is so exciting for them," Yost laughed. "They got to go up inside the ambulance and go inside the cabin and then sit in the stretcher, they were very excited about that."