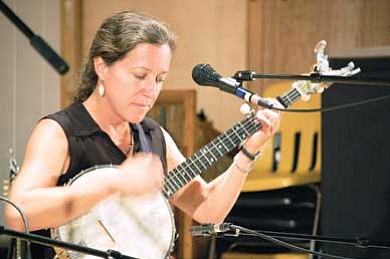 Originally Published: May 31, 2011 2:32 p.m.
GRAND CANYON, Ariz. - Traditional folk musician and dancer Aubrey Atwater will be south rim artist-in-residence from May 29-June 15. During her three-week residency, Atwater will present two public evening program performances on the South Rim and one program at Phantom Ranch.
Atwater's South Rim programs will be held at McKee Amphitheater at 8 p.m. on June 3 and June 10. Her inner-Canyon program is scheduled for June 6.
Self-taught on Irish tin whistle, Appalachian mountain dulcimer, old-time banjo, mandolin, and guitar, as well as American clogging and French Canadian "foot clapping," Atwater entwines a moving and humorous program of music and dance with stories from her life and conveys folk culture as a fascinating expression of human history.
Atwater attended Brown University with studies in psychology, history and French, while at the same time embarking on her busy performance career. She collaborates and performs with her husband, Elwood Donnelly, but is experiencing this residency as a solo artist. The two live in Foster, Rhode Island, home base for their national and international performing dates, teaching engagements and festival appearances. Their extensive travels serve as field trips for researching traditional folk culture, history, music and dance.
While in-residence, Atwater hopes to meet local musicians and dancers, with a particular interest in connecting with Native American performing artists. If you would like to meet Atwater, please attend one of her evening programs or contact program coordinator Rene Westbrook at (928) 638-7324 or Rene_Westbrook@nps.gov. For more information about the program please visit www.nps.gov/supportyourpark/air.htm.
For more information about Atwater and her music visit www.atwater-connelly.com.
More like this story