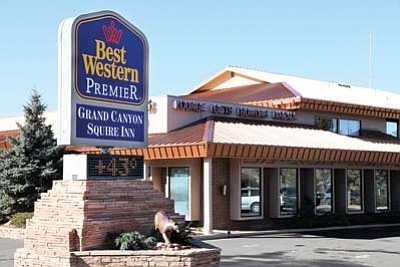 Originally Published: November 29, 2011 10:58 a.m.
TUSAYAN, Ariz. - The Grand Canyon Squire Inn offers premier service. And, now thanks to the tireless work of management and staff to complete property upgrades and elevate service, the hotel's sign reflects the quality of service.
The upgrades are the result of Best Western moving to a rating system with three designations - Premier, Plus and Best Western.
Hotel manager Greg Bryan said officials at the Grand Canyon Squire Inn agreed to upgrade their services and amenities to become a "Premier" property over a year ago.
"The program differentiates the different kinds of products that are out there in the 2,200 plus hotels across the United States and Canada," Bryan said.
The premier level is the top level with only 16 properties currently holding the designation with the Squire also the only property in Arizona to have completed the necessary upgrades. Bryan said Best Western expects to have just five percent of its hotels qualified at the top level.
"It's really a very prestigious thing that both our ownership has made a commitment to fund and the staff has made a commitment to work with and support in their actions and the quality of service," he said. "It's a very privileged and unique situation. We're excited about it."
Bryan said a great deal of money was spent to upgrade the facility with all rooms receiving new furniture and bedding, new carpeting installed in the hallways, lighting changed throughout the facility, new artwork hung.
"We just basically revamped the property in a number of ways," he said.
Exterior landscaping has been addressed as well.
Bryan said staff has undergone an extensive six-month training program to provide "premier partner" service.
"It was a designed program that our training staff created and we've required all of our staff to go through it," Bryan said. "That has been an exciting thing getting our staff up to premier service."
The property underwent an inspection in May before being allowed to use the Premier label.
A national ad campaign will launch in the coming months to announce the property classification system.