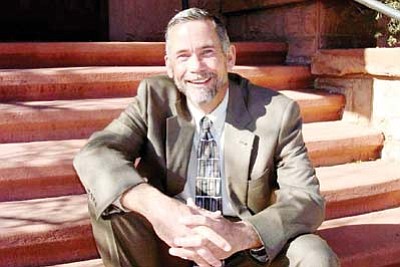 Originally Published: November 29, 2011 10:31 a.m.
FLAGSTAFF, Ariz. - County Attorney David Rozema announced last week he seeks a second term. A veteran prosecutor with more than 19 years of trial and administrative experience, Rozema plans to build on the successes from his first term to make Coconino County a safer and better place in which to live.
"It is a great honor to serve the people of Coconino County. I am proud of our office's accomplishments during the last three years," said Rozema. "Every first-term promise has been kept, every program enhanced in its effectiveness with key advancements in prevention and deferral services throughout the county."
Coconino County's chief prosecutor stressed the importance of collaboration with others in noting the following accomplishments:
• Implemented many new drug prevention programs, as well as diversion and intervention services, for the county's children;
• Assisted in reducing truancy in the elementary schools;
• Played a key role in the creation of a DUI/Drug Court in Page;
• Improved services throughout the criminal justice system for those who are suffering from mental illness;
• Advocated strenuously for crime victims; and
• Successfully prosecuted dozens of major felony cases.
Rozema continued, "Internally, we have improved office morale and cut turnover in half. Our attorneys have received statewide recognition for their accomplishments in murder and drug cases. And we have implemented new policies that encourage peer review and thorough, individualized treatment for each case."
He added, "I believe that the County Attorney's Office should promote healthier, safer communities while advocating for justice. We do that by being involved in prevention and other positive endeavors throughout the county. Our Citizen Academies have also helped citizens gain a better understanding of how we serve the public, while removing some of the mystery surrounding prosecution of criminal cases. We are planning an Academy next spring for citizens in the Williams Tusayan and Grand Canyon communities."
Rozema, who was voted into office by an overwhelming majority, is also well known for his community leadership in communities outside Flagstaff. This includes his continued service with the Western Navajo-Hopi Meth Task Force, a group he helped form in 2006; sponsoring Live Drug Free poster contests in Williams, Parks and Grand Canyon Elementary schools; Williams Alliance; Health and Safety Fairs in Williams and Parks; drug prevention efforts in Williams Elementary and High Schools; and Williams Rotary activities.
"I love being the Coconino County Attorney," said Rozema. "I have a strong vision to move us ahead in my second term. We will build on our new programs, making them better than ever. We will continue to support rehabilitation whenever possible, while taking a hard line against dangerous, repeat offenders. We will serve the entire county, including our most rural communities. We will set the standard for collaboration and efficient utilization of resources. And most importantly, we will continue to serve the people of Coconino County with integrity, fairness and a big heart", Rozema concluded.
Rozema, 57, and wife Linda have lived in Flagstaff for 24 years, where they raised their four daughters. In addition to serving with the Coconino County Attorney's Office for 19 years, Rozema has private law firm experience, having been a partner with Mangum, Wall, Stoops and Warden in Flagstaff, where he specialized in civil and commercial litigation. Rozema, a Democrat, is also a licensed attorney with the Navajo Nation, where he argued successfully before the Navajo Supreme Court on behalf of his tribal client.
Additional information regarding Rozema's campaign can be found at www.Re-ElectRozema.com.
More like this story