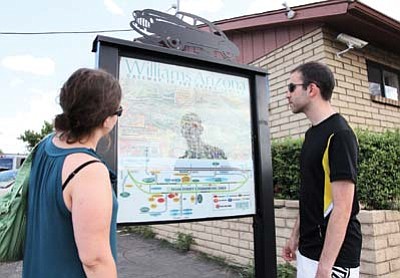 Originally Published: September 6, 2011 1:01 p.m.
TUSAYAN, Ariz. - The Community Directory, sister publication to the Williams-Grand Canyon News, has purchased the Discovery Map® Franchise from Connie Freson of Williams.
The Community Directory has been publishing a local telephone directory for the past 10 years and has a good understanding of the local market.
"We are looking forward to establishing a successful business relationship in the Williams-Grand Canyon area, said John Grimaldi, general manager of the Community Directory/Discovery Map. "We will be contacting you in the near future to discuss ongoing relationships with Discovery Map."
The experienced sales staff of the Community Directory has the expertise to continue the great tradition and quality the map has established in past years, he added.
"Please support the Community Directory and their staff as they move forward to provide our communities and our tourists with the next exciting edition of the map," said Freson.
In addition to adding even more value to the local map, the map will offer the same excellent quality business owners and tourists are accustomed. The map includes the following information for local advertisers -
• Your business name and a drawing of your building on the map.
• Your ad on flipside of the map detailing services you offer.
• Your web ad and location label on the web map plus a hotlink from the map to your website.
• Distribution includes visitor centers throughout northern Arizona and beyond.
All 100-plus advertisersdistribute the map as well.
• Tourists, locals and advertisers are impressed with this colorful and most requested map of our area. Quality artwork, graphics and professional layout showcase our communities in a positive manner.
"Our professional advertising staff is anxious to meet with you and to show you the new offerings that Discovery Map has this year," said Grimaldi.
Advertisers needing more maps for distribution or with any questions are encouraged to contact John Grimaldi at (800) 445-3804 or email Jgrimaldi@Prescottaz.com.
More like this story