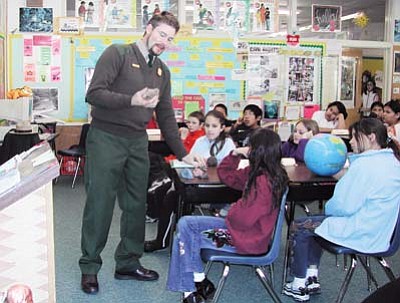 Originally Published: April 10, 2012 10:32 a.m.
GRAND CANYON, Ariz. - When it comes to educating Grand Canyon School (GCS) students about the Grand Canyon, two heads are better than one.
And in this case, the two heads are the National Park Service (NPS) and GCS faculty.
Allowing GCS students to capitalize off the natural resources inside the park is of great importance to both NPS Environmental Education Specialist Alma Posey and second grade teacher Jen Marshall, who said they've found that, even though the Grand Canyon is easily accessible, not many children know enough about it.
"I think that I see the opportunities that kids can have going to school inside a national park," Marshall said, who also works as a NPS intermittent education technician. "When I first started working here, I was struck by the fact that the kids didn't have a strong connection to the Canyon."
Posey said they have developed a fantastic relationship with Grand Canyon School (GCS) to make sure that connection gets stronger.
"Through time, the Environmental Division of NPS has developed curriculum-based programs for kindergarten through eighth grade, and with those programs, they work with the teachers, to bring the Grand Canyon into their learning module," Posey said. "We have activities where the rangers will come into the classroom to teach, we take them into the field and do two and a half hours, five hour, curriculum-based programs and field trips," Posey said.
Last year, NPS hosted their first GCS teacher workshop, over the course of three days, teachers had the chance to take part in geology walks along the rim, along with listening to various NPS employees present on their area of expertise. They also hiked down to Phantom Ranch and met with fish biologists and learned about non-native fish From Page 1B
removal and the Humpback Chub. The goal was to educate the teachers so they could apply what they learned to their classroom curriculum.
"The kids are so receptive at this age; they are just like little sponges," Marshall said, who helps to organize the teacher workshops. "If the teacher is knowledgeable and passionate about something and incorporates it into their teaching, the kids are going to pick that up."
Posey said the main thing is ensuring Grand Canyon children get the best education possible out of the Grand Canyon and its resources.
"They have this unique opportunity here in Grand Canyon to be introduced to the science, to get them out there and go out with a biologist with a telemetry unit and try to locate the condors and make those connections so the kids not only understand the resources, but are connected to it in that special way," she said.
Earth Day
Earth Day is something that NPS and GCS look forward to every year, Posey said.
"We always block out our calendars and plan months in advance," she said.
This year NPS and GCS are organizing a parade on April 26. Kindergarten though fifth grade will meet at the school at 8:45 a.m. and walk to the rim. They will be picking up trash and recycling items along the way to see how much trash they accumulate just on the short walk.
Their opening ceremonies will be on the Hopi Stage where all the grades will perform Earth Day songs.
"We want to show the community and the visitors that Grand Canyon School cares about their surroundings," Posey said.
In the afternoon, the students will be split by grade level and take part in service projects in conjunction with Park and Forest Service rangers. These projects will range from reseeding to planting projects and will connect to their classroom curriculum. "Localized projects give a sense of community so the kids can see that they do make an impact," Posey said. "The Forest Service is involved as well because Smokey the Bear is a huge part of Earth Day celebrations."