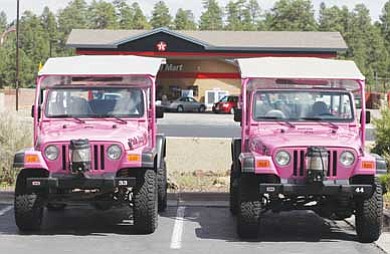 Originally Published: August 21, 2012 10:47 a.m.
FLAGSTAFF, Ariz. - On Aug. 1, Pink Jeep® Tours began operations from the National Geographic Visitor Center in Tusayan. Seven days a week, customer service representatives are on hand to answer questions, schedule tours, and provide the ultimate experience for visitors at the Grand Canyon. Pink Jeep® Tours has partnered with Destination Cinema, operator of the IMAX at the Grand Canyon to bring a new tour component with the movie experience.
Bob Perkins, CEO of Destination Cinema expressed his excitement about the partnership.
"Destination Cinema is delighted to welcome Pink Jeep® Tours as a marketing partner at the National Geographic Visitor Center at the South Rim of the Grand Canyon. Their ground tours will add another valuable component to the services offered at the Visitor Center," said Perkins.
There are four tours available including a ride along the South Rim, a guided walk along the Trail of Time, and the opportunity to view the sunset at the Canyon. For complete tour descriptions visit www.pinkjeeptours.com.
According to the company's press release, the expansion of Pink Jeep® Tours at the Grand Canyon is just the beginning in a long line of exciting growth and adventure opportunities in Arizona and beyond.
"When other tour companies are scaling back, we are stepping up our game and providing visitors what they want- more adventure, sight seeing, and enjoyable tour opportunities in our existing markets of Sedona, and Las Vegas and now at the Grand Canyon. We look forward to not only what being located at the IMAX at the Grand Canyon will offer the millions of visitors each year, but where we will be able to expand our brand next," Grant Ferguson, CMO of Pink Jeep® Tours, said.
Pink Jeep® Tours Grand Canyon offers a similar experience as visitors enjoy in Sedona and Las Vegas with the same qualified guides, customer service representatives, and of course, signature pink vehicles. Visitors can expect to hear stories of area history, geology, flora, fauna, and wildlife information on every tour at the Grand Canyon.
Pink Jeep Tours was founded in 1960, has its corporate headquarters in Sedona and expanded to Las Vegas in 2001. It serves visitors from around the world and is the only tour company with guide trainers certified by the National Association for Interpretation on its staff.
For more information about Pink Jeep® Tours Grand Canyon please visit www.pinkjeeptours.com or call (800) 873-3662.