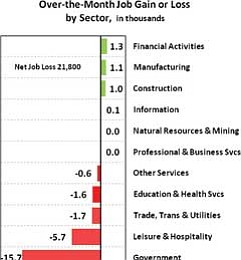 Originally Published: August 28, 2012 11:04 a.m.
PHOENIX, Ariz. - Arizona's non-farm payroll employment declined by 21,800 jobs over the month, according to the Arizona Department of Administration Office of Employment and Population Statistics. The seasonally adjusted unemployment rate increased one-tenth of a percentage point to 8.3 percent after three months at 8.2 percent. The U.S. unemployment rate also increased by a tenth of a percent to 8.3 percent. Total non-farm employment losses were the lowest for the month of July since 2005.
Both government and the private sector typically have over-the-month losses in July. Private sector losses (-6,100) were less than half the average for July while government seasonal losses (-15,700) were higher than average. Four of the 11 major sectors added jobs, two were flat, and five lost jobs in July. Financial activities (1,300), manufacturing (1,100), and construction (1,000) were the largest gainers.
Government losses were by far the highest among the major sectors. Government losses were primarily from local (-15,900) and state (-900) public education as schools pared back staff for summer vacation. Leisure and hospitality (-5,700), trade, transportation and utilities (-1,700), and education and health services (-1,600) were the other sectors with larger losses.
Over the year, total non-farm employment added 55,700 jobs (2.4 percent). This is the second consecutive month for job gains above 2 percent. Job gains above 2 percent have not been seen in Arizona since early 2007. Private sector job gains over the year were 2.6 percent in July. This was the fifth consecutive month of job gains above 2 percent in the private sector, with an average gain of 2.3 percent (46,600) between March and July 2012.
Nine major sectors had job gains, and two sectors had losses. The sectors that posted the largest gains were education and health services (11,100), professional and business services (10,900), trade transportation, and utilities (9,900), leisure and hospitality (8,400), and construction (8,200). Other services lost 3,300 jobs and information lost 100.
More like this story