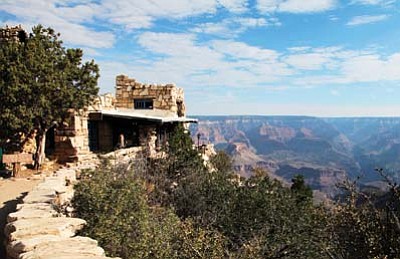 Originally Published: February 7, 2012 10:24 a.m.
GRAND CANYON, Ariz. - In honor of the historic event of Arizona's Centennial, Grand Canyon National Park will offer fee-free entry on Tuesday.
Visitors who arrive on the anniversary of Arizona's statehood will be allowed to enter the park free of charge. Those who plan to spend time in the park beyond Tuesday will need to pay the regular entrance fee for the remainder of their stay. Park visitors are reminded that the fee-free designation applies to entrance fees only and does not affect fees for camping, reservations, tours, or use of concessions.
In addition to offering fee-free entry on the state's 100th birthday, Grand Canyon National Park hosted the Third Grand Canyon History Symposium, an Official (Arizona) Centennial Event, Jan. 26-29. Symposium participants had the opportunity to attend almost 40 presentations; ride on the historic train from Williams, Arizona to Grand Canyon National Park; attend dinners with keynote speakers Wayne Ranney - geologist and author - and Brad Dimock - river historian and author; and participate in tours of the Trail of Time, Grand Canyon Cemetery, historic Kolb studio and residence, and historic boat collection. Additionally, the public was able to join symposium attendees for a special screening of Grand Canyon newsreel clips unseen since their original screenings in 1929.
The National Park Service congratulates the great state of Arizona on 100 remarkable years of statehood.
For more on visiting Grand Canyon National Park, please go to the park's website at www.nps.gov/grca. For more on Arizona's Centennial celebrations, please visit www.az100years.org/, and for a calendar of centennial events, please go to www.az100years.org/events/calendar-of-events/.