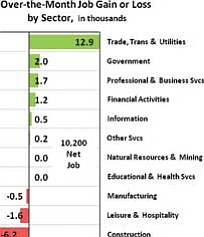 Originally Published: January 3, 2012 8:55 a.m.
PHOENIX, Ariz. - Arizona's seasonally adjusted unemployment rate declined three tenths of a percent from 9 percent in October to 8.7 percent in November. The U.S. unemployment rate dropped four tenths of a percent from 9.0 percent to 8.6 percent.
Arizona's economy added 10,200 non-farm jobs in November, which was below the 10 year average gain observed for this month. Both the private sector and government gained jobs. Eighty-one percent of the job gains came from the private sector, which added 8,200 jobs. Government added 2,000 jobs. While the private sector gains were below the 10-year average of 13,700, gains in government were near the 10-year average of 2,100.
Six out of the 11 major sectors added jobs for the month. Three lost jobs, and two sectors were flat. Trade, transportation, and utilities sector added the most jobs for the month (12,900) with retail industry dominating the gains by adding 12,800 jobs.
The gains in other sectors were relatively smaller. The other gaining sectors were government (2,000), professional and business services (1,700), financial activities (1,200), information (500) and other services. Although construction typically has a loss this time of year, the November's loss of 6,200 jobs is above the 10-year average loss of 2,000 jobs. Leisure and hospitality lost 1,600 jobs. Historically this sector has gained in November. Manufacturing lost 500 jobs. Educational and health services and natural resources and mining were flat.
Over the year 45,800 non-farm jobs were gained and 94 percent of those gains were from the private sector (43,000). Ten of the 11 major sectors gained jobs over the year. The educational and health services (13,700), trade transportation and utilities (12,600), leisure and hospitality (6,600), and manufacturing (5,000) sectors were the top gainers.
For complete report, see www.azstats.gov/pubs/labor/PrDec11.pdf. Get detailed information, graphs and charts on Arizona data at www.azstats.gov.