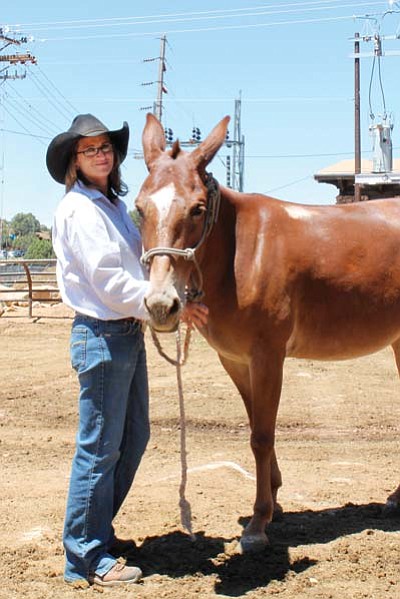 Originally Published: July 24, 2012 9:36 a.m.
GRAND CANYON - According to Mule Barn Supervisor Terri Modisette there are approximately 147 mules at the barn at the South Rim inside the Grand Canyon National Park. And she knows every single one by name.
Modisette, born and raised in Texas, has been living at the Canyon for three years now and working at the barn for two. She lived in New Mexico for 10 years, where she was a schoolteacher, then made the move to the Canyon to teach at the Grand Canyon Unified School. But her love for mules and adventure led her to the barn two years ago as a guide. One year later she became barn supervisor.
Modisette lives in the Canyon with her two kids and husband, who also works with the mules as the head packer, packing supplies daily for every trip taken into the Canyon. She loves having her family close and living in the Canyon, and loves the versatility of her position as barn supervisor.
"That's the fun thing about my job, I have a wide variety of things that I do," said Modisette. "My job description has me assisting in the Phantom Ranch ride and the daily Abyss ride, assisting with packing when needed, and sometimes helping with trail maintenance every now and again. I also will do office work and even step in as management when necessary."
According to Modisette, during the summer months the Abyss ride is offered twice a day and takes visitors through the forest down to the Abyss overlook. The ride takes one hour and 15 minutes to get to the Abyss overlook; riders can then dismount and enjoy a short stop there before riding back. The Abyss ride is only offered once a day in the winter months.
The Phantom Ride takes no more than 10 people at a time from the top of the Canyon down to Phantom Ranch. Modisette said this ride is almost always booked, especially in the summertime. Those wanting to reserve spots need to do so 12 to 13 months in advance.
"We leave the top here about 7:40 a.m. and get down to Phantom Ranch about noon," Modisette said. "This is where they spend the night, then come out the next day about seven o'clock, and we top out at the Kaibab trail. It is quite an experience."
Modisette spoke about how every day is exciting because it can be an adventure, it can be fun, and it can even be challenging at the mule barn as a supervisor, a guide, or an instructor. She talked about how her teaching skills can come in handy as well when there is a young child perhaps frightened by the mules or the ride itself, and yet the parents are insistent on still going.
One challenging and memorable experience Modisette spoke of was taking a man in his mid-80s down to Phantom Ranch to meet his son and grandson. He was determined to make it and she was determined to get him there safely. He came close to falling off his mule a couple times, but Modisette was always there to catch him if necessary, and assist him with everything else he needed. And he arrived at Phantom Ranch able to reunite with his kin.
There are no age specifications for riding the mules, only height and weight requirements. Riders must be at least 4 feet 7 inches tall and cannot weigh more than 200 pounds going down to Phantom Ranch or more than 225 pounds for the Abyss ride.
Modisette enjoys her life in the Canyon, her supervisory career at the mule barn, guiding newcomers through the Canyon, instructing riders, and taking care of all the mules she knows so well; especially her favorite, Delilah. Most of all though, Modisette preaches safety.
"Safety is our main goal, that's what we focus on. And if you're not safe, then you don't get to go with us, that's all there is to it. Because if you're not safe then it can cause not only harm to the mules but to yourself or everybody else that's on the ride," she said. "When I give my instructional speech, I talk about how to ride, how to steer the mules, how to make them go right and left, as well as stop and go, and how to properly sit up straight when you're riding a mule. And this is all focused around safety."