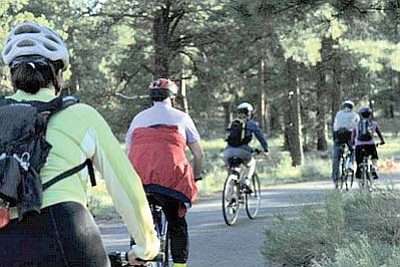 Originally Published: July 31, 2012 10:25 a.m.
GRAND CANYON, Ariz. - Need an excuse to pull your bicycle out of the garage? Want to brush up on your bike safety rules? Grand Canyon Active Trails invites you to a Bike Rodeo at the Grand Canyon Visitor Center on August 6 from 6 p.m. to 7:30 p.m. All ages and ability levels are welcome.
The Active Trails Team and Bright Angel Bicycles plan to challenge rodeo participants' bicycling skills with simple games, safety challenges, and a bike maintenance clinic. As always, participants are encouraged to bring water, snacks, a helmet, flashlight and sturdy footwear. Children are to be accompanied by an adult.
Bike Rodeo participants are encouraged to sign up in advance either through the Active Trails Facebook page, or by calling (928) 638-7088. Free bike helmets will be awarded to those who sign up before August 6. As with all Active Trails events, participation is free and "door" prizes will be plentiful.
In an effort to encourage widespread participation in the Active Trails program, Grand Canyon Association is providing funding for this and all 2012 activities. If you aren't already an Active Trails activity participant, there are still several activities to come in 2012, including walks on Aug. 20 and Sept. 17, and bike rides on Sept. 3 and 29. Also, be sure to join us for our season finale - a walk and luncheon on Oct. 29.
Details on, and changes to, events will be posted on the Grand Canyon Active Trails Facebook Page and at www.nps.gov/grca/supportyourpark/active-trails.htm. Anyone with questions regarding Grand Canyon Active Trails can reach the Team on Facebook or call (928)638-7088.
More like this story