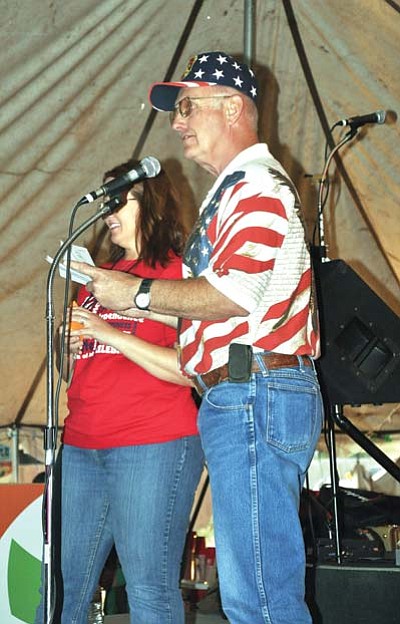 Originally Published: June 26, 2012 10:45 a.m.
TUSAYAN, Ariz. - When Rex Stermer mentions his family, a sense of pride shines through in his voice.
The grand marshal for Tusayan's upcoming Fourth of July Parade is part of unique family of four veterans who served America in different conflicts over a period of three decades.
"I'm excited about being the parade marshal because it displays my family and their service to America and the community," Stermer said.
During the parade, Stermer's stepson Guy and son-in-law Robert Noel will also be on the float.
Guy joined the US Army in 1985 and served in the Gulf War during the liberation of Kuwait) in 1991 with the First Infantry Division. He served as a gunner and driver of a M1 A1 Adrahms main battle tank. He is 100 percent disabled as a result of his service and lives at home with Stermers.
All of them served in the US Army and are members of Veterans of Foreign Wars.
"All four of us served America when she needed us," Stermer said. "Two of my folks paid dearly."
Noel served in "Just Cause," the deposing of Noriega in Panama, from November 1989 to June 1990, Korea 1991-2, and was part of the first group who went to Iraq with the Arizona Army National Guard (2220th Transportation) in 2003. Noel also received a 100 percent disability as a result of his service in Iraq.
Stermer's youngest son, Jeremy, is a Major is a career Army Officer serving today and has tours in Bosnia and multiple tours in Iraq with the First Cavalry Division.
"He got back about eight months ago, but he won't be at the parade, he's still active duty and he's not stationed here," Stermer said.
Stermer served in the Us Army in Vietnam in 1971 as a Military Policeman with the 18th MP Brigade. After his service was up, he spent 25 years in law enforcement and retired from the Coconino County Sheriff's Department in 1998. He also joined the Army National Guard in 1991, but was not deployed overseas.
Heavily involved with the Veterans of Foreign Wars, Stermer has been a past commander of the group. He also works as an auctioneer for a handful of charities around northern Arizona.
"I grew up on a farm and my dad was an auctioneer, and he did farm auctions back in the '60s, when his voice would wear out, he would ask me to fill in," Stermer said, who was born and raised in upstate New York. "So he taught me to help him out. I do it for charity, for the VFW, wildlife organizations, charities like that."
More like this story