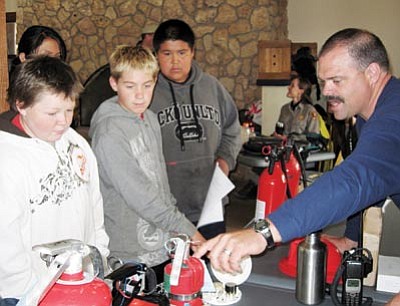 Originally Published: May 1, 2012 11:19 a.m.
GRAND CANYON, Ariz.- On May 8 from 2-6 p.m., head over to the Grand Canyon Rec Center to take part in the fifth annual Health Awareness Fair.
Free screenings and information include, cholesterol checks, substance abuse, stress control, diabetes and stroke awareness, teen outreach and more.
"It's all about educating people about a healthy lifestyle as far as wellness," Grand Canyon South Rim Benefits Coordinator Kevin Kuney said. "We want our community to be well enough to deal with the challenges of working up here. Just to be aware of the choices you make like what you eat, exercise."
The event will also provide free substance abuse education, nutrition, healthy lifestyle programs, and blood pressure checks. If there is enough interest, Kuney said they will also schedule a mammogram check.
The National Park Service will bring fingerprinting equipment for school children, as well as a DUI awareness booth.
Kuney said the goal of the fair is to help the Grand Canyon community be more aware of their own wellness.
"Obviously a healthy community translates into so many different areas," he said. "It makes people more productive in their jobs and even home life. A lot of it is education, but also a lot of it is fun. This is also an opportunity to give back to our community as well."
The grand prize raffles this year will be an Amazon Kindle and a bike.
"Just a whole bunch of different things to offer our community up here," Kuney said. "We're going to have lots of freebies and giveaways."
The event is presented by Xanterra, NorthCountry Health Care and Delaware North. For more information, contact Kuney at (928) 638-2526 x6071.
More like this story