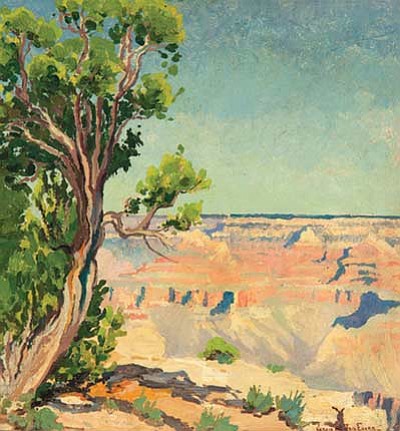 Originally Published: November 13, 2012 11:35 a.m.
FLAGSTAFF, Ariz. - The Museum of Northern Arizona's (MNA) newest exhibit, Arizona's Pioneering Women Artists, pays tribute to the adventurous and often independent women who came from eastern big cities and settled in Arizona during its Territorial Period, making their living by depicting the beauty of the Southwest, its people and its wide open spaces. Undeterred by the challenges of settling in early Arizona, they outnumbered male artists in the area and explored a wild region that was largely unknown to the rest of the country around the turn of the century.
The exhibit, produced in collaboration with the Arizona Committee of the National Museum of Women in the Arts, opens Nov. 17. It runs through May 12, 2013 and is an official Arizona Centennial Legacy Project, accurately portraying a significant educational and lasting aspect of Arizona history. As part of the Legacy Project, the MNA is publishing a catalog and directory, Arizona's Pioneering Women Artists -Impressions of the Grand Canyon State, for release with the exhibit.
"These artists were among the first Anglo women to see this region and experience its cultures, riding to painting locations on horseback and living among the landscapes and people they painted," MNA Museum Director Dr. Robert Breunig said.
Included in the exhibit are works by Mary-Russell Ferrell Colton, Kate Thomson Cory, Nora Lucy Mowbray Cundell, Jessie Benton Evans, Susan Ricker Knox, Erna Lange, Claire Dooner-Phillips, Marjorie Reed, Lillian Wilhelm Smith and Marjorie Thomas.
"This extensive group of dedicated and talented women artists worked in the West and were largely forgotten until recent decades. The exhibit highlights the work of ten artists who were professionally trained at the best art schools of their time, earned their livelihood as painters, and eventually came to live in Arizona. Some, like Mary-Russell Ferrell Colton and Jessie Benton Evans, became leaders in the development of Arizona's nascent cultural community," MNA's Curator of Fine Art Alan Petersen added.
Sixty-five of the seventy works of art in the Arizona's Pioneering Women Artists exhibit are from the collection of Fran and Ed Elliot, who began collecting in 1988, when they moved from New Jersey to Sedona. As a passionate collector of historic art of Arizona, Fran Elliot, like these pioneering women artists, took an independent path, collecting the work of overlooked and unappreciated women artists of the state.
"This exhibit shows the significant contributions of Arizona pioneering women artists who kept their lifelong commitment to the arts through exhibitions, writing, and teaching. Their work chronicles daily life, and depicts landscapes of Arizona and portraits of its people prior to the state's development. Their contributions to annual Arizona State Fairs, and the founding of museums and art departments across the state, are historically significant," Elliot said.