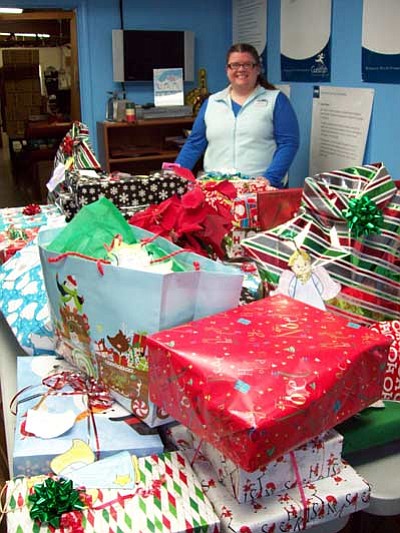 Originally Published: October 30, 2012 10:24 a.m.
GRAND CANYON, Ariz. - Flashing Christmas lights, velvety eggnog lattes and big box holiday sales are all part and parcel this time of the year, but at the Grand Canyon, community members are focusing on the real meaning of the season - giving back.
Delaware North Market Plaza's Assistant Store Manager Carrie Putz, who has worked in the park for seven years, took over organization of Christmas food baskets and angel gifts in 2009. The annual holiday gift giving project has been a fixture in the community for about 10 years.
"I remember there was an article in the paper about how the previous organizer needed someone to take over for her," she said. "That's where I saw it."
To generate interest, Putz sends letters to establishments within Tusayan, Valle and the Grand Canyon asking for lists of those who may be in need of food and/or gifts for their children.
But it doesn't have to be a business sharing the spirit of the season. Putz extends the invitation to anonymous community members who could offer up suggestions of those who need a little extra.
"I've met a lot of people doing this, and I think it's good to get the community involved in what's going on," Putz said. "I know there are a lot of concern for folks who might need extra assistance during the holidays. We are here at the Grand Canyon and a lot of us are away from family."
To pay for the baskets, donations of any sum are collected. Food is ordered from Delaware North, who also donate the basket's Christmas hams. After the baskets are completed, Xanterra's delivery truck distributes anywhere between 85 to 90 baskets of food as far away as Valle. This year delivery day will be Dec. 18.
"The American Legion in Williams is awesome. They donate to us every year," Putz said, also listing contributors like the Grand Canyon Rotary Club, The Lions Club and local church groups as vital for the success of the program.
For the first time, the Grand Canyon Recreation Center will host the angel gift-wrapping party on Dec. 12. The angel gifts can range between 65 to 85 gifts and all are welcome to help.
"My family's not here, and you get homesick sometimes and doing something to help other folks is great," Putz said. "I enjoy that."
Those donating angel gifts from Tusayan can conveniently drop them off at the Tusayan General Store. If you'd like to donate, suggest a gift basket recipient, or volunteer, contact Putz at (928) 640-2803 or email cputz@dncinc.com.
More like this story