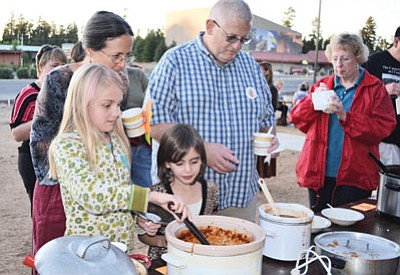 Originally Published: September 4, 2012 8:58 a.m.
GRAND CANYON, Ariz. - The Grand Canyon Rotary Club will host their annual chili cook-off on Sept. 27 at the new Grand Canyon Dinner Theatre in Tusayan. Chili entries are due at 5 p.m., and taste testing begins at 5:30 p.m.
All community members are invited to enter the free contest in the following categories: traditional chili, non-traditional chili such as green, chicken, vegetarian or other and cornbread/homemade tortillas. The chef who walks away with the grand prize will receive $50 while category winners will receive fun prizes.
There is no need to pre-register. Just bring your entry to the Dinner Theatre by 5 p.m.
Soft drinks, water and beer will be on sale. Chili tasting is free, with taste testers casting their votes for their favorites.
Recipients of Rotary's fall community grants will also be announced at 6 p.m. To apply send a brief letter describing your non-profit organization and your need.
Include the amount of funding you are seeking and send your letter to Rotary Community Grants Box 696, Grand Canyon, AZ 86023.
For more information, on the chili cook-off, contact Yvonne Trujillo at vonnee@netzero.com
Grand Canyon Rotary Club offering community grants
Members of the Grand Canyon Rotary Club are offering $1,000 in fall community grants, but the deadline for the grants is almost here. The application deadline is Sept. 4.
Rotary grants are awarded to non-profit organizations for programs and projects that benefit the local community. According to Clarinda Vail, President of the Grand Canyon Rotary Club, the group funds the community grants through their major fundraising event, the Holiday Dinner Dance, which will be held this year on Dec. 8 at the El Tovar. "The money is given to help make this a better community for those who live here," she said.
Applying is easy. Simply send a letter from your non-profit group, identifying the need and how the funds will help meet your needs. Be sure to identify the amount you are seeking from the Rotary Club.
Grant recipients will be recognized at the upcoming Rotary Chili-Cookoff, on Sept. 27, which is being held at the new Grand Canyon Dinner Theatre in Tusayan. The award winners will be publicly announced at 6 p.m. Grant requests can be sent to the Grand Canyon Rotary Club Community Grants Committee at P.O. Box 696, Grand Canyon, Arizona 86023.
The Grand Canyon Rotary Club gives away grant funds two times a year, in the fall and again in the spring.
More like this story