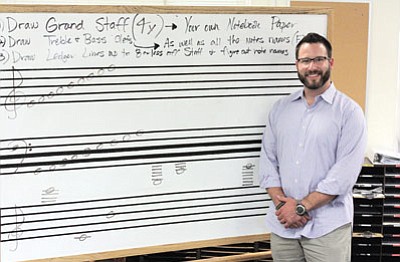 Originally Published: September 11, 2012 10:05 a.m.
GRAND CANYON, Ariz. - For Grand Canyon School (GCS) music teacher Bentley Monk, music is an intrinsic part of human society. Without it, "we can't really survive."
"It's been around since cavemen were banging on rocks," he said. "When you walk outside you hear birds, animals or people making music. It is the only form of human expression that emotes all emotions and all senses."
Monk began his own musical journey at the young age of 11-years-old, as a middle school band percussionist. He moved on to choir during his eighth grade year after a chorus teacher overheard him singing.
Following his early passion for music, Monk auditioned for a prominent Atlanta performing arts school-Pebblebrook High School, also named the Cobb County Center for Excellence in the Performing Arts. After four years of training, he received a full scholarship to Oklahoma City University for Music Theater and Opera. The classically trained bass baritone performed professionally for almost six years, traveling the country. He worked at Walt Disney World, New York, all over the west coast-practically anywhere he could find a job.
After he was given the opportunity to lead a children's workshop at the "happiest place on earth," Monk decided to leave the hectic performance world and turn his creative focus toward teaching.
"I just enjoyed working with the kids so much, I thought it was more fun than performing," Monk said about the experience. "Performing is still my passion, but I like to be able to give other people that passion and experience."
Monk returned to Georgia and earned his Master's degree in Music Education in just six semesters at the University of Georgia. An incredible accomplishment when taking into account he combined his bachelors' and master's courses, totaling an impressive 20 hours a semester.
"I graduated that weekend, and that very next Monday I started teaching chorus at Cobb County Middle School," Monk said. While on the road, Monk developed an affinity for backpacking and the outdoor life, which ultimately lead him to seek a position at GCS. Before obtaining his master's degree, he even worked a summer at the Petrified Forest Park as a Park Interpreter.
"Once I got into teaching, I just kept checking the job posts at this school every year for six years," Monk said. "This past April, it opened up, I applied that same day and the rest is history."
Arriving at the Canyon just six weeks ago, Monk has already dived into a sea of musical immersion with his students, who range from kindergarten all the way through grade 12. His wide range of experiences garnered from the professional world and city life offers them a chance to see what's going on musically in a world beyond the rim.
From ancient Gregorian chants to contemporary electronic beats, his older pupils will learn music development through the ages.
"With the younger kids, I do this thing called listening lessons, where I ask the kids to not think subjectively like, 'I like this or I don't like this,'" he said. "I get them to think more objectively, for example 'what am I listening to, what instruments are in this song?'"
If expanding young musical minds wasn't enough, Monk will also be at the organizational helm of a community winter and spring concert, as well as a spring play. Dates for all these events are still to be determined.
More like this story