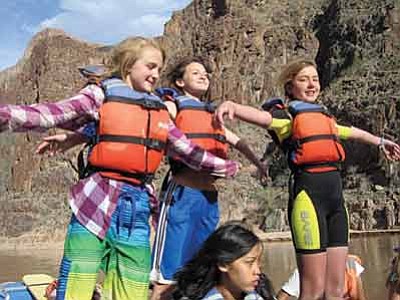 Originally Published: April 16, 2013 10:08 a.m.
GRAND CANYON, Ariz. - Rafting down the Colorado River's rapids on the first day of the Grand Canyon Youth (GCY) trip was a favorite among many students, but for seventh grader Megan Holm, a painful encounter with a scorpion is something she'll remember forever.
"I sat on my sleeping bag and I got stung, it was really painful," Holm said. "I rocketed up and started screaming, 'this hurts, this hurts.'"
"I would say you were calmly freaking out," Holm's friend Jessica Richardson added.
Each spring, the non-profit GCY organization takes around 20 middle school students, split evenly from GCS and Northland Preparatory School in Flagstaff, on a four-day rafting and hiking trip in the inner rim. This year, the adventure took place over Easter weekend.
"The trip is about teaching the kids how to set up a camp," GCS teacher and trip coordinator Lori Rommel said. "There are no electronics allowed so they have to talk to each other."
When the group made it to "Mud Beach" on the second day, the lingering pain of a scorpion sting disappeared. The kids discovered mud.
"I decided to jump in with them," Rommel said. "The mud was curling between our toes, it was so cool. Megan picked up the mud, patted it into a ball, looked at the canyon wall and all of a sudden hurled it as hard as she could. It went splat. Then all the kids joined in."
Things escalated quickly and soon, mud covered almost everyone. Students smeared mud all over themselves and threw it at one other - luckily, the river was close by.
The group didn't just throw mud balls and raft down the Colorado River, hiking was also a large part of the experience.
"It was just beautiful weather, it was a great day, we had cloud cover," Rommel said. "One of the guides had a pack full of peanut butter sandwiches, cookies and cream cheese bagels and the kids just scarfed everything."
But mud seemed to be the theme of the weekend when seventh grader Jacob Richardson got stuck in deep mud on the second day of the trip. It took Richardson about 20 minutes to free himself, during the process he had to unwillingly sacrifice something pretty valuable.
"All I could think about were my $75 Teva sandals that got sucked into the mud and how tee-ed off my mom was going to be when I got back," he said.
Noah Yarnell said the group unsuccessfully hunted in the mud for about 45 minutes in an attempt to retrieve the missing sandals.
And what was the joke?
"I was separated from my sandals at Separation Canyon," Richardson said, smiling.
If that wasn't enough, Richardson also lost his shirt and dealt with a wet sleeping bag during the trip.
"It wasn't really my weekend, but I still had a great time," he added.
It was Yarnell's second time on the GCY trip, but he learned something special this time around.
"I learned, to never stand in the bushes at night, because people will shine their lights on you and yell, 'ahh, Bigfoot!'" Yarnell said.
On the third day, the students went to Travertine Falls, saw some beautiful Columbine flowers and presented the projects they prepared a week in advance.
For their presentation, the students had to choose an aspect of the Colorado River and think up an interactive activity to accompany their talk.
"They all did a great job on their presentations, they were really good this year," Rommel said.
Seventh grader Kylie Hartigan said after all the excitement of the day, looking up at the stars before sleeping was one of her favorite parts of the trip.
"They were so bright," she said. "It was really cool."
Preparing for the GCY trip is almost a yearlong process. Through group fundraising, GCS raised $220 for each student with proceeds from Halloween Phantomgrams, Danielle Hartigan's candy sales and a spaghetti dinner. The local Lions Club donated some money and tax credit donations also helped pay for the trip. The students' parents also pay a $220 deposit.
"Selecting the students is always the tough part," she said. "The popularity of the program has grown and as of now, the way that's been done is the first 10 kids that get their paperwork filled out and get their check in have been able to go. After that, we start a waiting list."