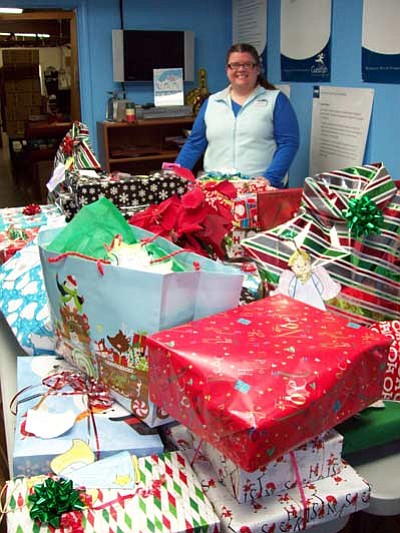 Originally Published: December 10, 2013 1:58 p.m.
GRAND CANYON, Ariz. - There's still time to give back this holiday season with Delaware North's angel gifts and food basket program, and this year the need is greater than ever.
"People have lost their jobs, their hours are getting cut, there is just a lot of struggle with the (government) shutdown," Delaware North Market Plaza's Assistant Store Manager Carrie Putz said. "None of us have really recovered from the shutdown yet."
The annual gift giving program has been part of the community for more than 10 years and provides families in need with food baskets and gifts for children. Putz, who has worked in the park for eight years, took over the program's organization in 2009.
To generate donations for either the angel gifts or food baskets, Putz sends letters to establishments within Tusayan, Valle and the Grand Canyon asking for lists of those who may be in need of food and/or gifts for their children. Anonymous community members are also welcome to offer suggestions.
Delaware North supplies the food and Xanterra's delivery truck distributes around 90 baskets of food to as far away as Valle. This year's delivery day will be Dec. 19.
Putz said the Grand Canyon Rotary Club, Lions Club, Williams American Legion and local church groups are among those who help with donations and angel gifts. At last week's Open House holiday event, the Grand Canyon Association donated its raffle money proceeds for the food baskets.
This year, angel gift contributions have almost doubled to almost 100. Putz said the Grand Canyon community has recognized that there is more of a need and have risen to the occasion.
The angel gift-wrapping party is at the Grand Canyon Rec Center on Dec. 17 at 6 p.m. Volunteers are welcome and should bring along tape and scissors. Wrapping paper is provided.
"We're going to need more help this year, so the more the merrier," Putz said.
Those interested in donating, suggesting a gift basket recipient, or volunteering, can contact Putz at (928) 640-2803 or by email at cputz@dncinc.com. Money donations for gift baskets must be given to Putz by Dec. 13.