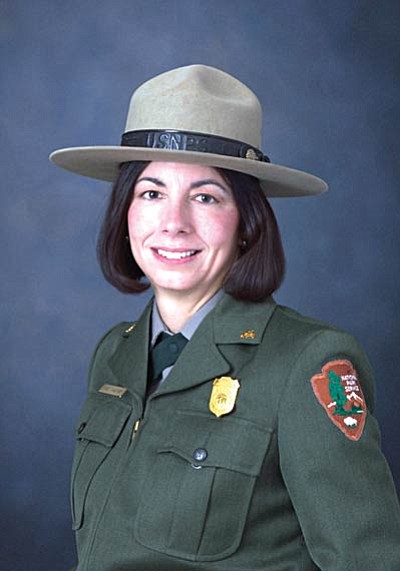 Originally Published: February 12, 2013 2:22 p.m.
GRAND CANYON, Ariz. - Grand Canyon National Park Superintendent Dave Uberuaga recently selected Diane Chalfant as the park's new Deputy Superintendent.
National Park Deputy Director of Operations, Peggy O'Dell, signed off on the decision.
Chalfant, a 32-year National Park Service (NPS) career professional, plans to move to the Grand Canyon in early March.
Currently, Chalfant is the NPS Deputy Associate Director for Interpretation and Education at NPS's Washington Headquarters. There, she works on policy development, education partnership development and program evaluation.
Chalfant recently completed a temporary assignment as the Commissioner for National Parks of New York Harbor, providing oversight for the Statue of Liberty and Ellis Island, Governors Island, the seven park units that comprise the Manhattan Sites and Gateway National Recreation Area. While there, she served as the Agency Administrator for three Hurricane Sandy Incident Management Teams which brought more than 1,000 NPS employees to the New York area to help in the months following the hurricane.
"We are very excited that Diane will be joining the Grand Canyon team," Uberuaga said. "She brings a tremendous amount of national experience and leadership to the table, particularly in the areas of communicating with and educating the public about the parks. She is clearly dedicated to the National Park Service mission and is a proven leader in the National Park Service."
A native of suburban Cleveland, Ohio, Chalfant has worked in six national park units, including Yellowstone and Cuyahoga Valley National Parks, Apostle Islands National Lakeshore, Independence National Historical Park, Mount Rushmore National Memorial and Perry's Victory and International Peace Memorial.
"I have been a lifelong visitor to the Grand Canyon," Chalfant said. "Like so many others, I have been humbled and inspired by its beauty, culture, and grandeur. It will be an honor and a privilege to work with the park staff, neighboring tribes and partners to protect and help the public enjoy this very special place that means so much to so many people."
Chalfant's husband, Paul, is a Concessions Management Specialist in the NPS Washington Headquarters. He will continue his work with the Washington office, but will move to the Grand Canyon with Diane. Their daughter, Danielle and son-in-law, Greg, work at Yellowstone National Park. The Chalfant's son, Marc, is in graduate school at Colorado State University.
"My husband Paul and I are excited about our upcoming move and are thrilled to be joining the Grand Canyon community," Chalfant said.