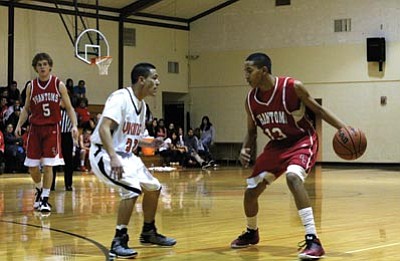 Originally Published: January 22, 2013 11:24 a.m.
GRAND CANYON, Ariz. - "That might have been the best game we've played all year," said Grand Canyon Phantoms head coach David Beery after his basketball team's decisive 78-44 victory on the road against the Williams Vikings (6-7) on Jan. 18.
Unfortunately, Grand Canyon (11-3) could not muster a similarly inspirational performance two nights in a row. The Phantoms lost a close one at home to the El Capitan Eagles (11-2) on Jan. 19 by a score of 72-70.
The Eagles sought out and successfully obtained revenge on the Phantoms for Grand Canyon's early season victory at El Capitan on Nov. 30, which eerily had an almost identical final score. Grand Canyon won 74-70 in that first game.
Against Williams though, Beery said his team moved the ball really well, shot the ball well, played as a team and shared the ball very well. Grand Canyon led 22-8 at the end of the first quarter. The Phantoms built that into a commanding lead by halftime, up 50-21 at the break.
"We had 24 assists as a team and we forced a lot of turnovers. We probably had close to half our points in transition," said Beery. "We gave them a hard time with our one-three-one zone defense and they didn't shoot the ball particularly well either, which helped us out."
Beery added that the Phantoms did a good job forcing Williams players to take shots that they weren't totally comfortable with. At the end of three quarters of play, Grand Canyon led 60-34.
Joey Bankston, Grand Canyon's 6-5 junior forward, led all scorers with 29 points on 13-for-17 shooting. He also grabbed four rebounds and snatched three steals. Junior swingman Ethan Berry played a well-rounded game with 12 points, nine rebounds, three steals and an assist.
Senior Loren Talas finished with 18 points on 7-for-12 shooting (3-for-6 from beyond the arc), nine assists, six rebounds, four steals and two blocks.
"He [Talas] was all over the place, it's been good having him back," Beery said. "He's missed some games because of injuries and academic issues, but he has his confidence back now."
Senior guard Luke Streit contributed 13 points, eight rebounds, five assists and four steals. Junior point guard Justin Jarrell did not have a great shooting night but still managed to chip in six points, eight assists, eight rebounds and six steals.
In the rematch against El Capitan, Beery said his team came out flat, which led to them being down by seven points at the end of the first quarter. The Eagles increased their lead to nine points at halftime.
"El Capitan is physical and our guys didn't really step up to the challenge until the second half. Micah Barlow played really well for them," Beery said. "We finally put it together in the fourth quarter, but we can't wait and just try to flip the switch like that."
In the second half the Phantoms put more pressure on and were able to force more turnovers. However, the Phantoms could never take the lead from El Capitan.
Down by two, Grand Canyon had an open look at a three-pointer in the corner with two seconds left in the game. The shot was no good but they still managed to grab the offensive rebound for a buzzer beating layup attempt to tie the game. The layup was missed as well.
"We needed that sense of urgency the entire game," said Beery. "I emphasized to the kids the plays before that final possession, if we handled those better, we don't put ourselves in that position. But El Capitan played really well and they shot the ball very well."
El Capitan finished 16-for-18 from the free throw line as a team, and shot better than 50 percent from behind the three-point line.
Beery did praise the play of Talas though during the fourth quarter. He managed to grab a couple steals and convert some transition baskets to help cut down El Capitan's lead.
"El Capitan showed us some things that are really going to help us heading into sectionals, and hopefully state," Beery said. "Hopefully when we play top schools like that we'll be even more prepared for them now."
Next up for the Phantoms are four consecutive home games to finish the regular season. Grand Canyon plays host to Fredonia on Friday at 5 p.m., Ash Fork on Saturday at 7 p.m., Northland Preparatory Academy (Flagstaff) on Jan. 28 at 7 p.m., and Greyhills Academy (Tuba City) on Feb. 1 at 7:30 p.m.
The Grand Canyon Lady Phantoms (8-7) defeated the Williams Lady Vikings on the road Jan. 18 by a score of 38-24. The Lady Phantoms returned home the next night to blow out the El Capitan Eagles 48-15 on Jan. 19 for their third consecutive victory.
The Lady Phantoms close the regular season with four consecutive home games also. Grand Canyon goes up against Fredonia on Friday at 3:30 p.m., Ash Fork on Saturday at 5:30 p.m., Northland Prep on Jan. 28 at 5:30 p.m., and Greyhills Academy on Feb. 1 at 6 p.m.