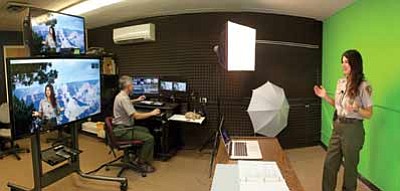 Originally Published: January 29, 2013 10:12 a.m.
GRAND CANYON, Ariz. - While Environmental Education Specialist Graciela Avila introduces Grand Canyon's endangered species to her students, Amala Posey, distance learning coordinator of the National Park Service's (NPS) Environmental Education Branch, steps away from in front of the green screen, sits at a computer off to the side and queues up a video of a California condor.
In a matter of seconds, a soaring condor video clip appears behind Avila.
"I'm guessing your teacher is around six feet tall," Posey says to the fifth graders after returning to the green screen. "The condor's wingspan is around nine feet, much longer than your teacher is tall."
The fifth grade class from Dallas let out a collective gasp.
Posey and several other NPS Environmental Education specialists teach classes like these four to five times a day. From the end of last November to mid-December, NPS conducted 37 distance-learning programs and reached a total of 1,025 students - from Utah to Maine.
"There is a large audience of kids that will never get to visit the Grand Canyon, and there are a lot of kids across the United States that are studying national parks, or they're studying Grand Canyon and they want to learn more about it," Posey said. "This is a way to bring Grand Canyon to them and also correlate with what they're studying in the classroom."
NPS's new distance-learning studio opened for its first class last November. With grant money, NPS has developed the program, which started seven years ago, into much more than just a rear projection screen and a PowerPoint presentation.
"It was a great start but we knew we could do a lot better," Posey said. "We wanted to be able to connect with schools with good quality and really give them a chance to see what Grand Canyon is like."
The distance-learning lessons are curriculum based and focus on ecology, geology or human history. The lessons also correspond national standards. To apply, classes send in a registration form for the periods offered. The first-come, first-served lessons are free and in high demand.
NPS also offers pre-program lesson plans for classes planning to take the interactive hands-on course.
"If we were doing a geology program, the students will research the different layers at the Canyon, and then they present to us which rock family they think it is, metamorphic, igneous or sedimentary," Posey said. "And then they'll tell us what type of fossils you'd find at the Canyon, how old it is, so that way they're presenting to us in a more interactive way."
NPS's distance learning studio is based on NASA's Goddard Space Flight Center system in Massachusetts. Posey said they chose to format their program in the same way because of the flexibility of NASA's connection options.
"What's nice about this system is that you can connect via Skype or another video conferencing system through an IP address," Posey said. "That's key because there are a lot of schools that don't have fancy video conferencing systems, but they can use Skype."
Contributions from the S.L. Gimbel Foundation, Dr. Scholl Foundation, Burlington Northern Santa Fe Foundation, Just Roughin' It Adventure Company and Grand Canyon Association (GCA) Board of Directors Challenge Grant made the new distance-learning studio possible. Also, GCA members contributed more than $28,000. The total cost of the studio was around $100,000.
"We wouldn't have the studio if it wasn't for the Grand Canyon Association and all the hard work they put into it," Posey said. "It was amazing to see who contributed."
More information on the new distance-learning studio is available by visiting www.nps.gov/grca/forteachers and selecting distance-learning options.