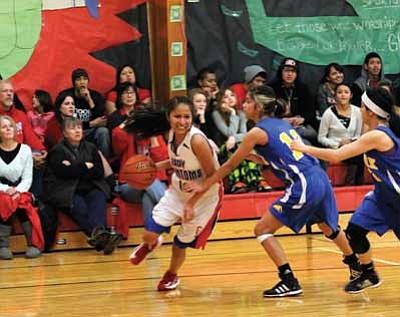 Originally Published: January 29, 2013 10:32 a.m.
GRAND CANYON, Ariz. - The Grand Canyon Phantoms (13-3) got right back to winning after that tough 72-70 home loss to El Capitan on Jan. 19.
The Grand Canyon boys' basketball team defeated the Fredonia Lynx (4-9) at home on Jan. 25 by a score of 60-42, then immediately followed that with another home win, this time over the Ash Fork Spartans (2-20) on Jan. 26 in an 81-24 blowout.
Phantoms head coach David Beery offered his comments about the victory over Fredonia.
"We came out as the heavy favorite, and took care of business," said Beery. "But Fredonia played real hard the entire game, they made us work for everything we got. We were able to win, but it was definitely closer than I know the players thought it was going to be."
Beery added that the Lynx have historically played tough every time they go up against each other. He said the key to the Phantoms' victory was sticking to their game plan and executing it.
"Nothing came easy, they really made us work," Beery said. "[Senior guard] Luke Streit I thought especially did a good job of getting people involved. And Joey [Bankston] didn't shoot great overall but he still finished with 19 points."
During the Fredonia game the Phantoms suffered some bad news as well. Junior guard Ethan Jones required stitches above his eye for an injury he sustained during play. Jones missed the next day's game against Ash Fork and will be out until Friday.
Grand Canyon ended up only dressing nine players for the Ash Fork game. Fortunately, that was all they would need.
"We were able to get a lot of transition baskets," said Beery. "We didn't run our half court offense as much as I would have liked, but it's hard to fault anyone for getting a lot of easy baskets like we did."
The Phantoms used their speed, quickness and opportunistic defense to rack up the fast break points against the Spartans and literally run away with the game.
"[Junior swingman] Ethan Berry did a real good job of facilitating and getting other people involved," Beery said. "He didn't score a bunch, maybe only seven points, but when we need him to score he does. He recognizes when we need much more than just scoring and he always contributes with his rebounding, passing and defense."
Grand Canyon currently sits in second place in their section in power points ranking behind only the El Capitan Eagles (11-2) from Colorado City, Ariz.
The Williams-Grand Canyon News went to print before the Phantoms played host to the Northland Preparatory Academy Spartans on Monday. Beery understands the importance of a game like that.
"Northland Prep is absolutely a big game for us, they beat us in the Pepsi Invitational Tournament in Flagstaff earlier this year," Beery said. "That's probably the only game this year where I really don't feel like our team showed up, and that's not to take anything away from Northland Prep, they played really well. But this is definitely a game we want."
Next up for the Phantoms is their final home game of the regular season, a Friday matchup against Greyhills Academy from Tuba City, Ariz. at 7:30 p.m. Grand Canyon defeated Greyhills 71-19 earlier this season.
"Greyhills did a good job of playing hard the entire game, even when we had a big lead," said Beery.
The Grand Canyon Lady Phantoms (10-7) extended their winning streak to five games with two decisive home victories against the Fredonia Lynx (2-8) on Jan. 25 and the Ash Fork Lady Spartans (1-19) on Jan. 26.
The Lady Phantoms defeated Fredonia 51-30 and Ash Fork 34-13.
The News went to print before Grand Canyon went up against the Northland Prep Lady Spartans at home on Monday.
The Lady Phantoms close the regular season out on Friday when they play host to Greyhills Academy at 6 p.m. Grand Canyon hopes to avenge its 42-39 loss to Greyhills earlier in the season.