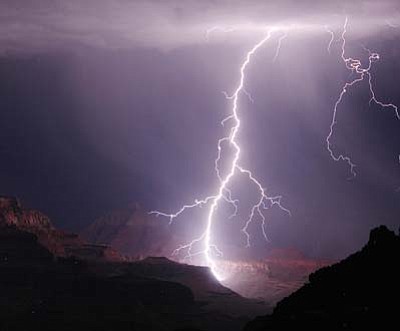 Originally Published: July 16, 2013 9:35 a.m.
Grand Canyon, Ariz. - At approximately 1 p.m. on Monday, a lightning strike near Mather Point caused several visitors to get hurt.
The group of visitors was standing near the rim when the lightning strike occurred. After they reported their injuries to the Grand Canyon Visitors Center, Park rangers transported four people to the South Rim clinic for non-life-threatening injuries.
Dangerous lightning often accompanies summer storms in the Southwest, and serious injuries and fatalities have happened at Grand Canyon National Park in the past as a result of lightning strikes. Park officials remind visitors that if the sound of thunder follows a lightning flash within 30 seconds or less, they should seek shelter in a building or vehicle, or go to the nearest bus stop to get on a park shuttle.
Park rangers advise that lightning can strike 10 miles across the canyon. Park visitors and residents should stay away from exposed points during storms and lightening.
The safest place to be during a thunderstorm is inside a building or a vehicle with the windows closed.
Visitors should avoid touching metal railings when lightning is nearby.
Park rangers encourage you to remember, "if you see it, flee it; and if you hear it, clear it."
More on how to be "lightning smart," can be found at Grand Canyon National Park's web site at www.nps.gov/grca/planyourvisit/upload/LightningDanger.pdf.