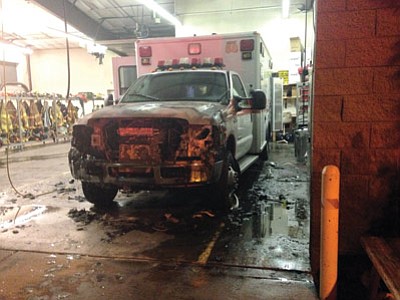 Originally Published: July 30, 2013 11:31 a.m.
TUSAYAN, Ariz. - An ambulance parked inside Tusayan Fire District's (TDF) station doors caught on fire July 22.
A damage assessment is ongoing. The flames didn't cause any disruption to the station's operations, and assessors are still investigating the cause.
Assistant Fire Chief and Emergency Medical Service Coordinator Lora Pitsinger said a family of tourists spotted the fire at around 7:30 p.m. while looking for Wendy's.
"Their little boy said, 'it looks like the fire station's on fire,' and the mother thought it was a joke. But then she saw flames licking up through the window," Pitsinger said.
Guardian Medical Transport paged the department, and Fire Chief Robbie Evans, firefighter Jake Banks and Pitsinger arrived on scene moments later. They were able to get inside the station by crawling under the bay doors and through the smoke to drive the fire engine out.
"We weren't able to get into our bunkers or anything, so we had to basically put the fire out in our civvy clothes," Pitsinger said. "It was awkward, because as a fire department, you rely so heavily on your equipment, and the smoke was so black and thick that you couldn't really see what was on fire."
After Banks hooked up a hydrant, the crew opened the first bay door and saw the Guardian ambulance was on fire.
"If not for Robbie, Jake and Lora, the fire station probably wouldn't be there," TDF Board Member John Vail said.
Why the fire started has yet to be officially determined, but Vail said the department is guessing that the ambulance's battery charging system may have malfunctioned and overcharged one of its batteries. All emergency vehicles must be on a constant charge while they are parked so they start immediately.
"But that's just guessing," Vail said. "It's truly up to Guardian to do their own investigation, but the fire was right in the front end of the ambulance."
The department will have to replace the bay ceiling because of heavy smoke damage and decontaminate all of their equipment, but fortunately the fire caused no structural damage to the station.
"The apparatus is fine, other than being covered in soot," Vail said. "The department did have to take one of their firefighters to the hospital for smoke inhalation but he's fine."
Pitsinger said the department appreciates the help that came from National Park Service Fire/EMS and Dispatch that night.
"They responded as mutual aid for us," she said. "Also, thanks to the Coconino County Sheriff and Guardian Medical Transport for all of their assistance."
More like this story