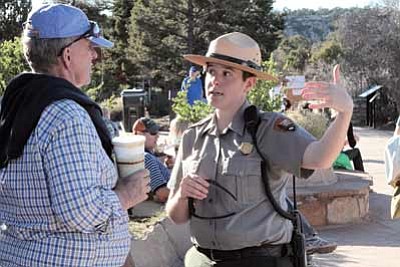 Originally Published: June 4, 2013 10:19 a.m.
GRAND CANYON, Ariz. - So, at exactly what elevation do mules turn into elk at the Grand Canyon?
Park visitors have asked Interpretive Park Guide Kristi Rugg for her hand in marriage, if she carved the Grand Canyon herself and what time of day the Canyon fills up with water so they can go wading - just a few of the more outlandish questions she gets.
"One time I was hiking on a trail and a visitor asked me if I was waiting for my mother, and I was in uniform," recounted Rugg.
It's all in a day's work for Rugg. The 29-year-old's job is to answer questions at the park visitor centers. The other half of the day she gives ranger programs on subjects ranging from geology to condors to ecology.
As an interpreter, Rugg's job works in two parts: first, supplying basic information and second, connecting visitors with what they need.
"They come here as a blank slate," Rugg said. "They ask what they should do here, how do they get around? How long should they stay? That's a frequent question."
In need of a summer job and fueled by her cousin's encouragement, Rugg, who has a double masters in mathematics education and theoretical mathematics, applied for a front entry fee collection position at 25 different national parks. But the Park Service repeatedly turned her down because of lack of experience.
After finding success under the park's student hiring program, Rugg started summer work as a park aide helping at the transportation centers.
"I fell in love with it," said Rugg, who grew up in Buffalo, NY. "I got to be outdoors, I got to interact with people and I started doing these small mini programs at the bus stops, and having a lot of fun talking to folks about the Grand Canyon."
A second summer job later, the Park Service offered her a permanent position in 2009.
Rugg also acts as the park's Deaf Services Coordinator. If someone comes to the park and they're planning ahead and want an interpreter, they can contact Rugg who will schedule an interpreter out of Flagstaff to help them.
More frequently, around once or twice a month, Rugg will see visitors signing and offer to talk to them via signing.
"I've been able to interact with people in the area, but also there's an international deaf conference in Las Vegas every other year," Rugg said. "The week prior and the week after we have a huge influx of deaf visitors, so I've been able to sign with people using American Sign Language, but sometimes people use British Sign Language or Ireland or France. We're able to figure out what each other is saying."
For Rugg, the challenge of her job revolves around communicating that information across to a wide spectrum of people, each with their individual needs.
"You have 40 percent of visitation that don't speak English," Rugg said. "They may speak a little English, but it's more trying to understand a viewpoint that's not a universal concept as opposed to a scenic view. I need to be able to understand what they're saying and they need to understand what I'm saying."
The ability to read people's wishes is a big chunk of what Rugg does daily. Whether it's being part of a visitor's emotional first glance at the Canyon or helping a seasoned hiker find a new trail, Rugg finds joy in helping visitors make deeper connections with the Canyon.
"I've seen people leading family members up to the canyon with their eyes closed, and they open their eyes on the rim and just start bawling," Rugg said. "That's just amazing to see."